Tiarnán Ó hAimhirgín Appointed Sales & Trade Marketing Director of Plzensky Prazdroj
1.8.2009
Uncategorized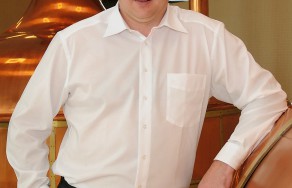 Tiarnán Ó hAimhirgín comes from Ireland. Prior to joining PPAS, he held the same position for the Pilsner Urquell brand in Germany. He was in this position for two years, during which he built Urquell sales from 182k hl to 210k hl.
In his role in Germany, he managed to make the PU brand the undisputed market leader in the German international beer segment. Pilsner Urquell was voted in both 2007 and 2008 by the German drinks industry as a Verkaufs HIT  – "Sales Hit – International beers".
Tiarnán Ó hAimhirgín has a degree from Queens College in Belfast in German literature and Business Administration, and an MBA from the Johannes-Gutenberg University, Mainz, Germany.
His prior work experience encompasses various positions with Diageo and Guinness. He is fluent in English, Irish and German and speaks conversational Russian, Romanian and French.
Tiarnán is married; his wife, Marina, is Russian and they have three children.

Notes for editors:
With total sales of over 10.7 million hectolitres in the calendar year 2008 (including licensed production abroad) and exports to more than 50 countries around the world, Plzensky Prazdroj, a. s., is a major beer producer in the region and the largest exporter of Czech beer.
Plzensky Prazdroj, a. s. is a member of the global group SABMiller plc. Pilsner Urquell is the international flagship of the SABMiller brand portfolio.
SABMiller plc is one of the world's largest brewers, with brewing interests or distribution agreements in over 60 countries across six continents. The SABMiller brand portfolio consists of international brands such as Miller Genuine Draft, Peroni Nastro Azzurro and Pilsner Urquell, as well as almost 200 other successful regional and national brands.
Contact:
Jiri Marecek
Manager external communication
Plzensky Prazdroj
724 617 219

Pilsen