The Velkopopovice brewery celebrates its 135th Anniversary with a record number of visitors
15.12.2009
Velkopopovický kozel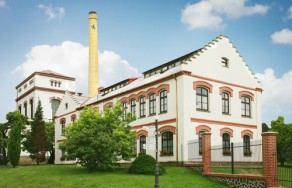 Over the past year, the entire brewery has undergone renovations. The company has invested in improved equipment, and the reconstruction of the buildings that make up the brewery's infrastructure. "We concentrated primarily on the new visitor tour, which includes access to a new Visitors' Center and a Kozel store," said Eva Kršňáková, manager of the Visitors' Center. "The company also made improvements to the brewery's courtyard, and to the landscaping of the surrounding areas. And this year, the interactive visitor tour attracted a record 14,000 tourists from the Czech Republic and abroad." Also noteworthy is the increase in Russian-speaking tourists. In Russia, Velkopopovický Kozel is the highest-selling foreign-brewed beer.
We plan to open an original restaurant called Kozlovna next to the brewery in the near future. "We are also planning to work more closely with the town of Velké Popovice and with the Ladův Kraj association in an attempt to attract more tourists to the entire region," added new brewery manager, Jaroslav Hacko.
The Velkopopovický brewery was established in the 1880s by Baron František Ringhoffer. Velké Popovice was chosen as because it was conveniently located near a formal imperial road between Prague and Vienna, and because of the exceptionally high quality of the nearby spring water. Water is used in beer production, and ever today the brewery gets its water from the forests surrounding Velké Popovice.
More information:
David Frodl, Ogilvy Public Relations, tel.: +420 221 998 410, +420 724 244 473, e-mail:
Vladimír Jurina, manager of the corporate brand, Plzeňský Prazdroj, Ph. no.: +420 257 287 223
X X X
The brewery in Velké Popovice is part of Plzeňský Prazdroj, a.s. With total sale of 10.7 million hectoliters in the calendar year of 2008 and with export to more than 50 countries, Plzeňský Prazdroj a.s. is the leading producer of beer in the Czech Republic and the biggest exporter of Czech beer.
Plzeňský Prazdroj a.s., is a member of the global SABMiller PLC group, the second biggest beer producer in the world, with activities and distribution in more than 60 countries on 5 continents. Velkopopovický Kozel is a brand which has an irreplaceable position in the Plzeňský Prazdroj portfolio. It is a brand with some of most dynamic growth on the Czech market as well as in other foreign markets. Velkopopovický Kozel Černý, dark is also a market leader in dark beers in the Czech Republic. Information about activities and projects supported by the Velkopopovický Kozel brand can be found at www.kozel.cz.
Velké Popovice