An unusual hockey match will take place in Orlová
5.2.2010
Radegast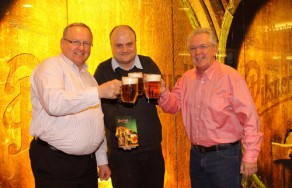 Table hockey is the most popular pastime of fans of the fastest game on earth. The captain of the Orlov hockey team, Martin Potočný, concurs: "I have a table hockey game at home and I sometimes play it with my friends. It's always a lot of fun."
The Radegast Cup is a competition which in terms of size has no competition in the Czech Republic. "A hundred first-round games will take place at various places around Moravia. Winners of these rounds will then meet in 10 semifinal matches and it all will escalate in the finals. 3,200 players can participate," says the manager of the Radegast brand, Pavel Kmínek, clarifying the magnitude of this competition.
The best player will be given a trip to the world championship in ice hockey. Dates when the matches are held and rules are available at www.radegast.cz/hokej.
"The Radegast Cup is part of the Radegast supports Moravian hockey concept, and it takes place in Moravian pubs and restaurants which serve Radegast beer," adds P. Kmínek.
Notes to editors:
The Radegast brewery, which is one of the most modern breweries in the Czech Republic, has been brewing beer since 1970.
Since 1999, Radegast brewery has been part of the largest beer conglomerate in the Czech Republic, belonging to Plzeňský Prazdroj, a.s.
Yearly it produces more than 2.2 million hectolitres of beer, with the help of approximately 270 employees.
It produces beer called "classic Czech lager" and it also produces high-quality malt in its own malt house.
In 2008, the brewery brewed its ten billionth beer.
With total sales of 10.7 million hectolitres in the calendar year of 2008 and with export to more than 50 countries, Plzeňský Prazdroj a. s., is the leading producer of beer in the Czech Republic and the biggest exporter of Czech beer.
Plzeňský Prazdroj employs approximately 2,500 employees in the Plzeň, Radegast (Nošovice) and Velké Popovice i breweries and in 13 distribution centres around the Czech Republic.
Plzeňský Prazdroj, a. s. is a member of SABMiller PLC group, one of the biggest beer companies in the world, with activities and distribution in more than 60 countries on six continents.
Contact:
Jiří Mareček
Manager external communication
Ph. no: +420 724 617 219
Orlová