Hockey fans cheers from a pub, next to the ice
2.3.2010
Radegast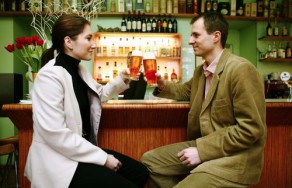 "Radegast is real beer for real men and that is why it supports hockey as part of the Moravian hockey concept. I am certain that fans of the Olomouc team, who sit right by the ice, are first in the Czech Republic if not around the world to do so," said manager of the Radegast brand, Pavel Kmínek.
The Radegast pub by the ice isn't missing anything that any good pub would have. Customers enjoy correctly chilled beer, roast pig's knee and steak tartar. Beer is served by a friendly female bartender. But instead of watching the game on TV or on a screen, customers are watching the game live, from behind the Plexiglas.
"Our goal is to attract more fans to the arena, to get the best possible atmosphere. A pub, which Radegast set up right next to the ice, is an idea that will definitely attract attention," said manager of the HC Olomouc, Helena Spurná.
Notes to editors:
The Radegast brewery, which is one of the most modern breweries in Czech Republic, has been brewing beer since 1970.
Since 1999, Radegast brewery is part of the largest beer conglomerate in Czech Republic, belonging to Plzeňský Prazdroj, a.s.
Yearly, it produces more than 2.2 million hectoliters of beer, with the help of approximately 270 employees.
It produces beer called "classic Czech lager" and it also produces high quality malt in its own malt house.
In 2008, the brewery brewed its ten billionth beer.
With total sale of 10.7 million hectoliters in the calendar year of 2008 and with export to more than 50 countries, Plzeňský Prazdroj a.s. is the leading producer of beer in the Czech Republic and the biggest exporter of Czech beer.
Plzeňský Prazdroj employs approximately 2,500 employees in the Plzeň, Radegast (Nošovice) and Velké Popovice i breweries and in 13 distribution centers around Czech Republic.
Plzeňský Prazdroj, a. s. is a member of SABMiller PLC group, one of the biggest beer companies in the world, with activities and distribution in more than 60 countries on six continents.
Contact:
Jiří Mareček
Manager external communication
Ph. no: +420 724 617 219
Olomouc