Luděk Kraus, Manager of Development of International Business
4.3.2010
Uncategorized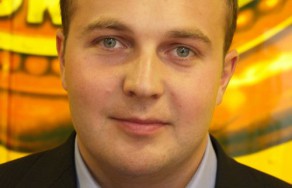 "I was born in Plzeň and my heart beats for our lager. I consider going to Scandinavia, where we've had great success with Gambrinus and with Velkopopovický Kozel, and fighting for Pilsner Urquell as a challenge. In total, more than 700 thousand hectolitres of our beer are drunk in Northern Europe and in the future I will work on the further establishment of an excellent name for our beers in this region," says Luděk Kraus.
In his former position as a manager of Corporate Relations and External and Internal Communication of Plzeňský Prazdroj, Luděk Kraus moved forward remarkably, especially in the area of corporate responsibility. This includes, for example, the launch of the Internet site napivosrozumem.cz (consume beer wisely) and the increase in use of the Promile.INFO service. One of his responsibilities was also the representation of SABMiller Europe in terms of European Relations in the worldwide association of brewers, Brewers of Europe.
Luděk Kraus graduated from the Faculty of Business Administration at the University of Economics in Prague. He is also a graduate of the Exchange MBA programme, University of California, Los Angeles (UCLA). After graduation, in 1999, he worked for two years for the European Commission and EU Affairs, a consultancy in Brussels and in London. He specialised in the regulation of advertisements and in e-commerce. After his return to the Czech Republic, in 2001, he worked as Executive Director of the Association of PR Agencies. He has been working at Plzeňský Prazdroj since 2003.
He is single; he speaks Czech, English, a little French and Russian. In his free time he enjoys flying. Among his biggest flying adventures would be flying all over Europe, also beyond the North Pole and a course in flying acrobatics. His hobbies also include fishing, beer from Plzeň, ice hockey and relaxing.
The successor for the position of Manager of Corporate Relations and Communications will be announced soon.
Notes to editors:
With total sales of 10.5 million hectolitres in the 2009 calendar year (including licensed production abroad) and with export to more than 50 countries, Plzeňský Prazdroj, a. s., is the leading producer of beer in the Czech Republic and the biggest exporter of Czech beer. The main brands of Pzeňský Prazdroj in the Czech Republic are Pilsner Urquell, Gambrinus, Radegast, and Velkopopovický Kozel.
Plzeňský Prazdroj, a. s., is member of group SABMiller plc. Pilsner Urquell is an international flagship in the portfolio of SABMiller brands.
SABMiller PLC is one of the biggest beer companies in the world, with activities and distribution in more than 60 countries on six continents. The group of SABMiller brands includes important brands such as Pilsner Urquell, Miller Genuine Draft, Grolsch, Peroni Nastro Azzurro and many more successful regional brands.
Contact:
Jiří Mareček
Manager external communication
Plzeňský Prazdroj
+420 724 617 219
Plzeň