Radegast hosted signing of a new collective agreement
24.3.2010
Radegast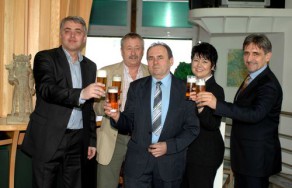 The collective agreement sets a salary increase in the new fiscal year, with an average increase of 1.3 %, but based on performance, employees can increase this by up to 2.5 %. Employees retain the right to receive unchanged benefits within one year. Employees working in high risk areas will additionally receive a sum of 1,500 Kč (79 USD) for recreation. 
Benefits also include gift certificates for beer valued at 2,500 Kč (132 USD). The employer additionally agreed with the union to further increase the donation of beer to employees. Last year's donation was above the level stated in the collective agreement. Based on the new collective agreement, during the period of summer holidays employees will receive six cartons, which include 8 beers each, of Radegast beer, which will also be accompanied by a present for the 40th anniversary of the establishment of the Radegast brewery.
 
Further, the value of food stamps will increase for those who are entitled to receive them. The value will increase from 55 Kč (2.9 USD) to 70 Kč (3.7 USD) and the employee will cover only half of the difference. Last year, employees also liked the option to purchase promotional items with a discount or to purchase discounted tickets to excursions to individual breweries. Therefore, this year the value of this benefit will increase by 200 Kč (10.5USD) to a total of 800 Kč (42 USD). 
The new collective agreement also includes ongoing employees' benefits, which were agreed upon during past negotiations. These include an increase of the value of last year's gift certificates for cultural and sporting events for employees. This year each employee will receive a total value of 4,700 Kč (247 USD) for such events.
The new collective agreement also includes bonuses for company loyalty. An employee who has been working for Plzeňský Prazdroj for 5 years will get a one-time bonus of 5,000 Kč (263 USD). For employees who have been working for the company longer than this, the bonuses together with non-monetary gifts can amount to about 25,000 Kč (1,315 USD) per person.
What did representatives of employees and of the employer say about the collective agreement?
Bohumír Matas, President of the Trade Union of Plzeňský Prazdroj:
"Negotiations connected with the collective agreement were very complicated and the financial crisis in the Czech Republic affected the process negatively. That is why negotiations regarding the strengthening of social care for our employees and for their families was difficult. We are pleased that we were able to achieve not only an increase of the minimum wage, but also a shift in relationships between employees and management."
Ivan Balogh, Director of Corporate Relations and Human Resources:
"We are happy that even in hard times and under difficult conditions set by a lasting crisis, we have good news for our employees – Plzeňský Prazdroj will increase salaries in the upcoming fiscal year. Employees will also be pleased and will be motivated to perform even better because current benefits will remain the same and they will receive a little extra, for example more beer for employees. I hope that the new collective agreement will contribute to the fact that Plzeňský Prazdroj will remain one of the most sought-after employers."
Notes to editors:
With total sale of 10.5 million hectolitres in the calendar year of 2009 and with export to more than 50 countries, Plzeňský Prazdroj a. s. is the leading producer of beer in the Czech Republic and the biggest exporter of Czech beer.
Plzeňský Prazdroj employs approximately 2,400 employees in the Plzeň, Radegast (Nošovice) and Velké Popovice i breweries and in 13 distribution centres around the Czech Republic.
Plzeňský Prazdroj, a. s. is a member of global SABMiller PLC group, one of biggest beer companies in the world, with activities and distribution in more than 60 countries on six continents.
The SABMiller group of brands includes important brands such as Miller Genuine Draft, Peroni Nastro Azzurro and Pilsner Urquell, and many additional successful regional brands.
Contact:
Jiří Mareček
Manager external communication
Ph. no: +420 724 617 219
Nošovice