Kozel is the most successful Czech beer at an International competition in Australia
15.6.2010
Velkopopovický kozel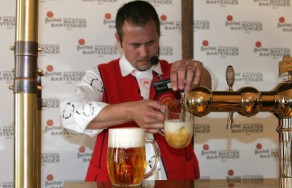 There were more than 1170 types of beer registered for the competition (495 international and 675 Australian beers) in fifteen categories. Thirty judges, which included three ladies, tasted and evaluated beer for over two weeks.
"The fact that three out of four of our beers received medals speaks of the quality and balanced flavour of Velkopopovický beers. This fact is also supported by bronze medals from 2008 and 2009, when Velkopopovický Kozel Medium received this medal in the category of European-type beers. Behind all of these successes is the hard work of all of the people from the brewery and the first-class ingredients that we use in the brewing process," as the senior brewer of Velkopopovický Kozel, Jiří Fusek, explained.
The Australian International Beer Awards competition took place for the first time in 1993 when 30 breweries from Australia and New Zealand competed for medals. This year included a category of gluten-free beer, which did not have a winner. The absolute winner in the competition, the beer with most points, was a brave, small brewery from Grimstad in Norway for their beer Nøgne Ø.
X X X
The brewery in Velké Popovice is part of Plzeňský Prazdroj, which with its total sales of 10.5 million hectolitres of beer in 2009 and exports into more than 50 countries around the world, is among the leading beer producers in Central Europe. Plzeňský Prazdroj is also the largest exporter of Czech beer.
Plzeňský Prazdroj a.s., is a member of the SABMiller PLC group, the second biggest beer producer in the world, with activities and distribution in more than 60 countries on six continents.
Velkopopovický Kozel is a brand that holds an irreplaceable position in the portfolio of Plzeňský Prazdroj. It is a brand with some of the most dynamic growth on the Czech market as well as on foreign markets. Velkopopovický Kozel Černý dark is also a market leader in dark beers in the Czech Republic.
The Velké Popovice brewery celebrated its 135th anniversary last year.
Information about activities and projects which are supported by the Velkopopovický Kozel brand can be found at www.kozel.cz
More information:
David Frodl, Ogilvy Public Relations, Ph.no: 221 998 410, 724 244 473, email:
Velke Popovice