Zattl, first Austrian tank facility with Czech beer, is celebrating success
24.6.2010
Pilsner Urquell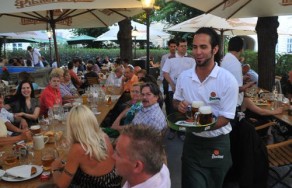 Restaurant Zattl is situated downtown in the capital city of Austria, close to the unique triangular square Freyung. Restaurant Zattl has 200 indoor seats, 20 seats at the bar and 200 seats in the garden; but the restaurant is generally so packed that it is difficult to find a place to sit, day or night. At least half of the clientele come from the Austrian Parliament, and the restaurant also occasionally caters to important politicians (e.g. former Austrian Chancellor Wolfgang Schüssel) or popular actors.
The beer guide "Bier Guide 2010" evaluated Zattl as the best city garden restaurant in Austria. Bier Guide 2010, which reviews about 1200 cellars from around Austria and includes information about beer tasting, interesting beer innovation and visits to breweries, was therefore introduced and baptized in Zattl.
Michael Zattl, a famous Viennese restaurateur, considers Pilsner Urquell to be one of the best beers in the world and was very adamant that his restaurant should be the first restaurant in Austria to offer Pilsner Urquell from beer tanks. "It has proven to be the best decision ever," he says, after a year in business. Nowadays, he serves just about the same amount of Pilsner Urquell as the famous Czech cellar, U Mansfelda in Plzeň, which had about 270,000 customers last year, which is only a few less than the 550 seat Na Spilce in the Plzeň brewery, the biggest cellar in the Czech Republic.
Pilsner Urquell wants to expand in Austria.
Austria ranks fifth in the world in the consumption of beer per person, and the average Austrian drinks about 108 litters of beer per year. Therefore, having established direct representation of Plzeňský Prazdroj for export to Austria in 2009, we have ambitious goals: "Pilsner Urquell is a legend in Austria, and customers are starting to see Pilsner beer as a role model even for Austrian Pilsner-style beers," says Jürgen Scherieble, Head of the SABMiller's Austrian export branch.
More information:
Vladimír Jurina, Plzeňský Prazdroj, Ph.no. 257 287 209, 724 617 219
Roman Binder, AMI Communications, Ph. no.: 234 124 112, 724 012 641
Notes to editors:
With total sales of 10.5 million hectoliters in the 2009 calendar year (including licensed production abroad) and with exports to more than 50 countries, Plzeňský Prazdroj is the biggest producer of beer in the region and the biggest exporter of Czech beer.
Plzeňský Prazdroj, a. s., is a member of the SABMiller PLC Pilsner Urquell group, it is an international flagship of the SABMiller portfolio of brands.
SABMiller PLC is one of the biggest beer companies in the world, with activities and distribution in more than 60 countries on six continents. SABMiller brands include important international brands such as Miller Genuine Draft, Peroni Nastro Azzurro and Pilsner Urquell, and close to 200 successful regional and national brands.
Plzen