Prazdroj employees even get beer when they go on vacation
20.7.2010
Company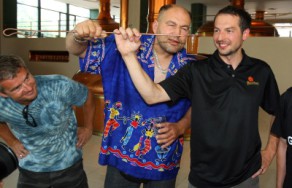 Free beer is one of the most popular employee benefits, and according to the current collective agreement*, employees at Plzeňský Prazdroj have the right to receive a gift certificate worth 2,500 Kč (127 USD) per year. The company also made a deal with the union promising additional beer give-aways for employees, over and above the above-mentioned gift certificate.
Last year's give-away was above the level stated in the collective agreement.
This year, during the summer vacation season, as a gift for the 40th anniversary of the founding of the Nošovice brewery in the city of the same name at the foothills of Beskydy, employees received six 8-bottle cartons of Radegast Premium beer.
"Since the brewery in Nošovice is one of the youngest and one of the most modern breweries in the Czech Republic, this year it is celebrating its fortieth anniversary," said Ivan Balogh, Director of the Corporate Relations and Human Resources Department at the Plzeňský Prazdroj. "Our predecessors here produced the distinctively bitter Radegast beer, which has long been one of the most popular beers in Moravia. Today, the brewery produces more than 2.2 million hectoliters of this excellent beer annually, and its 270 employees are pillars of entire Prazdroj community. It is for this reason that we chose to give away our Nošovice flagship, the Radegast Premium lager, (which received a bronze medal at the Australian International Beer Awards in June, and took silver in the Zlatý pohár (Gold Cup) Pivex competition in autumn) to employees for their summer vacations."
Bohumír Matas, chair of the union at the Plzeňský Prazdroj, evaluates the choice of beer very positively. "We are very glad to hear that the company acts on agreements which were set by the collective agreement. Employees accepted this gift with delight, and we're certain that it will provide pleasant refreshment on their vacations. Thank you, and let's go on vacation with Radegast!"
*More about the current collective agreement and other benefits at the Plzeňský Prazdroj at https://www.prazdroj.cz/en/for-media/news/785
Notes to editors:
With a total sale of 10.5 million hectoliters in the 2009 calendar year, and with exports to more than 50 countries, Plzeňský Prazdroj a. s., is the leading producer of beer in the Czech Republic and the biggest exporter of Czech beer.
Plzeňský Prazdroj employs approximately 2,400 employees in the Plzeň, Radegast (Nošovice) and Velké Popovice, in breweries and 13 distribution centers around Czech Republic.
Plzeňský Prazdroj, a. s. is a member of SABMiller PLC company, one of biggest beer companies in the world, with activities and distribution in more than 60 countries on six continents.
Contact:
Jiří Mareček
Manager external communication
Ph. no: +420 724 617 21
Plzen