From god Radegast to the brewery
13.8.2010
Radegast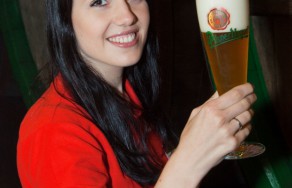 "The walk across Beskydy is not a competition, but a challenge for all who want to do something untraditional and who want to stretch their limits," says the Manager of the Radegast brand, Pavel Kmínek, further explaining the main idea.
Those interested can set out on the track on Saturday, August 21st from 7:30 am to 12:00 pm from the statue of god Radegast. The track follows marked hiking trails and participants will find five control points along it. Participants have to reach the finish, the Radegast brewery, by 10 pm. There will be a minibus which will transport walk participants to Frýdek-Místek.
"We consider our brewery to be one of the youngest ones in the Czech Republic. Time flies, and even Radegast is already 40. And that is definitely a reason for celebration. We have been brewing our enjoyably bitter beer for four decades. Our beer is the best-selling beer in Moravia!" cites Ivo Kaňák, Manager of the Radegast brewery.
Registration was successful at www.radegast.cz. Pavel Kmínek explains the reason for this: "The brewery is celebrating its 40th anniversary and that is why the first 40 registered teams, if they make it to the finish, will receive a bonus, a 5-litre keg of Radegast beer."
However, if somebody decides to participate in the event without registration, they can head directly to the statue of god Radegast and get signed in there. All who conquer the 40 kilometres will receive an original certificate, a gift and Radegast beer at the finish line.
Notes to editors:
The Radegast brewery, one of the most modern breweries in the Czech Republic, has been brewing beer since 1970.

Since 1999, the Radegast brewery has been part of the largest beer conglomerate in the Czech Republic, belonging to Plzeňský Prazdroj, a.s.

Yearly, it produces more than 2.2 million hectolitres of beer, with the help of approximately 270 employees.
It produces beer called "classic Czech lager" and it also produces high-quality malt in its own malt house.

In 2008, the brewery brewed its ten billionth beer.

Radegast brewery is part of Plzeňský Prazdroj, which with total sales of 10.5 million hectolitres of beer in 2009 and with exports into more than 50 countries around the world, is among the leading beer producers in Central Europe. Plzeňský Prazdroj is also the largest exporter of Czech beer.

Plzeňský Prazdroj employs approximately 2,400 employees in the Plzeň, Radegast (Nošovice) and Velké Popovice in breweries and in 13 distribution centres around the Czech Republic.
Plzeňský Prazdroj, a. s. is a member of SABMiller PLC group, one of the biggest beer companies in the world, with activities and distribution in more than 60 countries on six continents.
Contact:
Jiří Mareček
Manager external communication
Ph. no: +420 724 617 219
Nosovice