Birell will cool off hot machinery in Jawáč
3.9.2010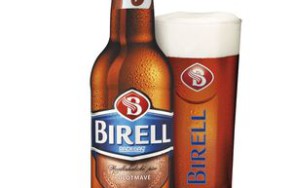 Those who don't know where to go during the first weekend of the back to school season can head to Jizbice by Čechtice to another meeting of the Jawa Club Prague 1961, which is sponsored by the non-alcoholic beer, Birell, from the Plzeňský Prazdroj portfolio. "Non-alcoholic Birell is the ideal partner for us, because it is the right drink for drivers and it promotes drivers' responsible approach," said Roman Jakovec, Vice President of the Jawa Club Prague 1961. "This is our tenth annual meeting with Plzeňský Prazdroj at Jawáč and we always look forward to their cooperation and to their beer," added Jakovec. For those, who come as passengers and who will not be driving, in addition to Birell, other beers such as Pilsner lager, Pilsner Urquell, or the highest-selling Czech beer, Gambrinus, will also be on tap.
Non-alcoholic Birell is one of the sponsors of the meeting and it will be available in its most demanded form, on tap. "We are extremely happy that the bikers act responsibly not only towards themselves, but also toward others, who share the road," said Brand Manager Martina Kuncová. "Many of them reach for the non-alcoholic beer at an event like this. Birell is really the right choice for all, who aren't able to savor alcoholic beer, and due to its unique brewing process it retains the slight bitter taste of beer."
This is the 28th annual meeting of the Jawa Club Prague 1961, which will be held in Jizbice by Čechtice, where it's been held 11 times before. Fans can look forward to the biggest bike show in the region; it will include, among other things, the bike school by Mirka Lisý, beautiful rides, and a competition. Known bands such as Visací zámek, Krucipüsk, quartet Vítkovo, Jolly Joker and many more will perform at Jawáč. This event, which welcomes all bike fans, with no preference for a specific brand or for specific power, has always been very popular, and organizers expect it to be a great success this year as well.
Contact information for media:
Jiří Mareček
Manager external communication
Plzeňský Prazdroj, a. s.
Cell phone: (+420) 724 617 219
Email:
www.prazdroj.cz
Lucie Neubergová
Account Manager
Native PR, s. r. o.
Ph.no: (+420) 221 592 450
Email:
www.nativepr.cz

Prague