Gambrinus is the major partner of hockey from Třebíč
14.9.2010
Gambrinus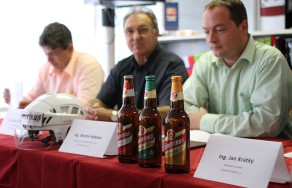 Gambrinus beer will be served on tap directly in the hockey arena and the Gambrinus logo will be on players' helmets. The head of the BDC in Jihlava, Martin Hebnar explains the reasoning behind the sponsoring of a hockey club since until now Gambrinus was a "soccer" brand: "Many of the local hockey fans consider Gambrinus as their first choice of beer. For this reason, we wanted to give the fans their favourite beer directly here at the arena. It is also an opportunity to support a local hockey club."
Besides the beer on tap, which is served at the arena, and Gambrinus logos on players' helmets, the brand will also be displayed on the wood rails and in walkways. A special musical announcement will play during breaks between periods and fans will be able to participate in entertaining competitions in which they can win prizes from Gambrinus.
Gambrinus has been for a number of years the highest selling beer on the Czech market. Approximately every fourth beer consumed in Czech Republic is Gambrinus.
Gambrinus is the most important partner of Czech soccer – the Gambrinus league and the Czech soccer team.
Gambrinus is part of the Plzeňský Prazdroj portfolio, together with brands such as Pilsner Urquell, Velkopopovický Kozel, Radegast and Radegast Birell.
Contact:
Jiří Mareček
Manager external communication
Ph.: +420 724 617 219
Plzeň/Třebíč