People from South Korea starting to like the lager from Plzeň
18.11.2010
Pilsner Urquell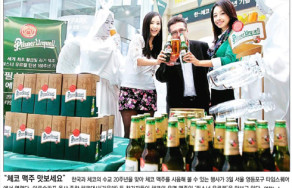 Increasing popularity of Pilsner Urquell led to the organization of the Pilsner Urquell Fest in South Korea's capital city, Seoul, during which (besides Pilsner Urquell and the original festival, Pilsner Fest) Pilsner–type Czech beer was introduced as a specialty with its own special characteristics. For this reason, the Czech Embassy in South Korea took a big part in preparing for this important event.
In South Korea the legal drinking age is 19. Per year, 37 liters of beer are drunk here per person, and local brands dominate the market with a share of approximately 97 percent. For now, the consumption of imported beers has a share of 3 percent, but interest in them is constantly increasing. That is why Plzeňský Prazdroj started to export its dark Velkopopovický Kozel five months ago. It received very positive feedback from South Koreans, which is also reflected in an increase in sales.
Up until now, Plzeňský Prazdroj has exported its Pilsner Urquell to Korea strictly in bottles of 0.33 liters. "Keeping in mind the growing interest in Pilsner beer, we are now considering supplying 0.5-liter cans and beer on tap in rustproof kegs," summarizes Karel Kraus, senior brand manager of the Pilsner Urquell brand.

More information:
Vladimír Jurina
Plzeňský Prazdroj
Ph.no.: +420 724 617 219
Notes to editors:
With total sales of 10.5 million hectoliters in the 2009 calendar year (including licensed production abroad) and with export to more than 50 countries, Prazdroj is the largest producer of beer in the region and the largest exporter of Czech beer.
Plzeňský Prazdroj, a. s., is a member of the SABMiller PLC Pilsner Urquell group. It is an international flagship of the SABMiller portfolio of brands.
SABMiller PLC is one of largest beer companies in the world, with activities and distribution in more than 60 countries on six continents. The group of brands SABMiller includes are important international brands such as Miller Genuine Draft, Peroni Nastro Azzurro and Pilsner Urquell, as well as close to 200 successful regional and national brands.
Plzeň