Plzeňský Prazdroj will launch a new special on the market – Radegast Extra Bitter
15.12.2010
Radegast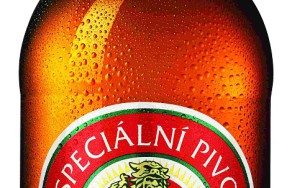 ""As all beer lovers in our region know very well, Radegast is known especially for its distinct bitterness from hops. In the case of the new special, Radegast Extra Bitter, we have even intensified this characteristic. The new special is one of the bitterest beers on the Czech market. While levels of bitterness in regular lagers are around 30 units, this beer's levels are 42 units of bitterness. Despite its high intensity, the bitterness remains very pleasant and is well accompanied by the right flavour of malt," Manager of the Radegast brewery, Ivo Kaňák, further explained the taste of the new beer.
During the production process, a typical recipe for Radegast beer was followed. The light lager, Radegast Extra Bitter, is unique however due to its higher dose of hops – of the Žatec medium-ripening červeňák, which is the highest–quality Czech hops.
Radegast Extra Bitter is a special beer which will be available in stores, pubs and restaurants from January 3rd, 2011 until the end of March. Radegast Extra Bitter will be served on tap in hundreds of pubs all over Moravia. The bottle version will be available in stores. A list of places where one can savour Radegast Extra Bitter will be published at the beginning of January at www.radegast.cz.
Notes to editors:
The Radegast brewery, one of the most modern breweries in Czech Republic, has been brewing beer since 1970.
Since 1999, Radegast brewery is part of the largest beer conglomerate in Czech Republic, belonging to Plzeňský Prazdroj, a.s.
Yearly, it produces more than 2.2 million hectolitres of beer, with the help of approximately 270 employees.
It produces beer called "classic Czech lager" and it also produces high-quality malt in its own malt house.
In 2008, the brewery brewed its ten billionth beer.Radegast brewery is part of Plzeňský Prazdroj, which with its total sale of 10.5 million hectolitres of beer in 2009 and with exports into more than 50 countries around the world, is one of the leading beer producers in Central Europe. Plzeňský Prazdroj is also the largest exporter of Czech beer.
Plzeňský Prazdroj employs approximately 2,400 employees in the Plzeň, Radegast (Nošovice) and Velké Popovice in breweries and in 13 distribution centres, around Czech Republic.
Plzeňský Prazdroj, a. s. is a member of SABMiller PLC group, one of the biggest beer companies in the world, with activities and distribution in more than 60 countries on six continents.
Contact:
Jiří Mareček
Manager external communication
Ph. no: + 420 724 617 219
Ostrava