Pilsner Urquell again named most-sold foreign beer in Germany
31.1.2011
Pilsner Urquell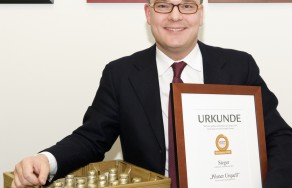 "A four–time winner in this survey proves that the road to building a premium position and image of the brand is on the right track and that our customers appreciate it. They understand that this is the only way to positively distinguish oneself in the market, which is highly influenced by various special sales," says Frank Hoehler, Director of the Pilsner Urquell Deutschland branch.
Germany is one of Plzeňský Prazdroj's key markets. In 2010, Germany imported 240,000 hectoliters of Pilsner Urquell lager, which is 4.77 percent more than the preceding year. The focus on premium brands reflects, for example, last year's opening of the first Pilsner Urquell Original Restaurant (PUOR), a restaurant with a franchising concept, in Düsseldorf, Germany, or the development of special refundable beer cases for 0.5 liter Pilsner Urquell bottles and for 0.33 liter bottles, which are available exclusively on the German and Austrian markets.
Germany is one of the top countries Plzeňský Prazdroj exports to, followed by the U.S. and Slovakia. Thanks to a strong distribution network, the premium lager Pilsner Urquell is available in more than 1400 restaurants in Germany. Beer in bottles is sold all around Germany in more than 20,000 stores.
More information:
Vladimír Jurina, Plzeňský Prazdroj, Ph.no.: +420 724 617 219
Notes to editors:
With total sales of 10.5 million hectoliters in 2009 (including licensed production abroad) and with export to more than 50 countries, Plzeňský Prazdroj is the largest producer of beer in the region and the largest exporter of Czech beer.
Plzeňský Prazdroj, a. s., is a member of the SABMiller PLC Pilsner Urquell group, and it is an international flagship of the SABMiller portfolio of brands.
SABMiller PLC is one of the largest beer companies in the world, with activities and distribution in more than 60 countries on six continents. SABMiller includes important international brands such as Miller Genuine Draft, Peroni Nastro Azzurro, Pilsner Urquell, and close to 200 successful regional and national brands.
Plzeň