Master Zlatý, Gold, and Birell Brought Home First Gold "Oscars" from Britain
15.4.2011
Uncategorized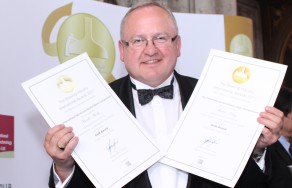 "We were very happy when we found out about our success, but to hold the gold medals from this competition in my hands, that is a completely different feeling," said Václav Berka, senior commercial brewer of Plzeňský Prazdroj.
The beer–tasting competition was divided into nine categories, including lagers, dark beers, porters, stouts, ale–type beers in kegs, nonalcoholic beers and beers with low amounts of alcohol, speciality beers and strong beers. The results were in the hands of 30 judges from 14 countries from around the world, including five women. The team of judges consisted mainly of brewers from breweries. The head of the competition was the aforementioned Bill Taylor from Australia, who selects judges so that large, medium and small-sized breweries are equally represented.
The original competition first took place in 1886, and today it is known as the Brewing Oscars, or "the Oscars of beer". A total of 796 beers from 42 countries competed in nine basic categories. All competing beers must be readily available in bars or in stores. The competition took place in Burton upon Trent, which is considered to be the birthplace of ale-type beers (just as Plzeň is considered the birthplace of pilsner beer).
Notes to editors:
With total sale of close to 9.9 million hectolitres in the 2010 calendar year (including licensed production abroad) and with export to more than 50 countries, Plzeňský Prazdroj a. s., is the leading producer of beer in the region and the biggest exporter of Czech beer.
Plzeňský Prazdroj, a. s., is a member of the SABMiller PLC Pilsner Urquell group and an international flagship of SABMiller portfolio of brands.
SABMiller PLC is one of the biggest beer companies in the world, with activities and distribution in more than 60 countries on six continents. The group of SABMiller brands includes important brands such as Pilsner Urquell, Miller Genuine Draft, Grolsch, Peroni Nastro Azzurro and many other successful regional brands.
Contact:
Jiří Mareček
Public relations officer
Plzeňský Prazdroj
+420 724 617 219
Plzeň