Limited edition of summer semi–dark Birell
3.5.2011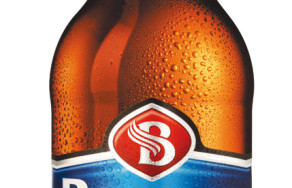 Although Easter celebrations have only just marked the beginning of spring, it's not too early to enjoy the summer atmosphere. For its fans, the Birell brand has prepared a limited summer edition semi–dark beer. Consumers will be able to buy the new 10 OZ bottles in restaurants starting April 1st. And starting in June, 10 OZ cans of Birell semi–dark will be available in the Tesco and Bill retail chains for 15.90Kč.
"By expanding the packaging portfolio of the semi–dark BIRELL, we accommodate all of our customers, but especially women, who prefer a smaller serving size of their favorite beverage. Thanks to 10 OZ bottles and cans, they can be refreshed with BIRELL anytime throughout the day, like during lunch, after sports or during an outdoor picnic," said Birell brand manager Martina Kuncová.
Birell is increasingly enjoyed by women. In addition to its refreshing taste, which is especially handy after sports activities, women also appreciate Birell's low sugar content. Active women in particular can now enjoy their favorite beverage anytime and anywhere. "After working out, the body needs to be supplemented with plenty of liquids but also vitamins and minerals. Magnesium in particular helps prevent muscle cramps. Birell non alcoholic beer contains both vitamin B and magnesium, as well as other health-promoting substances (like polyphones with antioxidant effects), which help the body regenerate," said Assoc. Dr. Zdeněk Vilikus from the Institute of Sports Medicine 1, Academic Faculty of Medicine.
In the Czech Republic, Birell has long been the best selling brand of non–alcoholic beer. The semi–dark version was introduced to the public only a few months ago, but it already has a wide range of admirers, especially women. They prefer the darker beer over light. And thanks to the new limited 10 OZ edition, they will be able to enjoy the semi–dark Birell anytime and anywhere. Birell is attractive not just for its delicious, slightly bitter flavor with caramel undertones, but also for its formula containing many vitamins and minerals. Birell is an ideal, long–lasting refreshment for active women who work out in their free time.
Birell wishes you a pleasant semi–dark summer.
Press contact information:
Vladimír Jurina
Manager of Corporate Relations and Communications
Pilsner Urquell, a. s.
Phone: +420 724 617 886
E-mail:
www.prazdroj.cz
Lucie Neubergová
Account Manager
Native of PR, s. r. o.
Phone: +420 221 592 450
E-mail:
www.nativepr.cz
Prague