For Father's Day, Pilsner Urquell offers retro bottles in a gift–pack
8.6.2011
Pilsner Urquell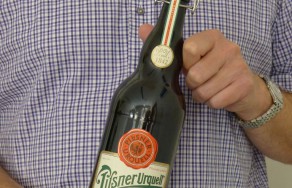 Pilsner Urquell brand honors traditional values and in the spirit of this philosophy supports Father's Day celebrations. It endorses the idea that it is right to pay respect to our fathers for their care and love and to honor them with an appropriate gift.
With its design, the limited edition of one–liter bottles of the light Pilsner Urquell lager points to the first half of the 20th century. The bottle is embellished with a seal and a tag inspired by the style of the year of 1931, is sealed by the traditional cap, and is individually wrapped in a special gift-box marked "Den otců" (Father's Day). "The retro style of the limited edition is completely in accordance with the tradition of the Pilsner Urquell brand and most importantly reflects the idea of Father's Day – it underlines the memory of what our fathers did for us in the past and for what we ought to be grateful to them for, and to thank them with this gift," says Karel Kraus, the senior brand manager of the Pilsner Urquell brand.
About 30 thousand retro bottles of the limited edition will make it to Globus, Albert, Interspar, and Tesco superstores where those interested may buy them already. The MSRP is 109,90 CZK. Another 4 thousand bottles are designated for a consumer contest designed for visitors of selected pubs and restaurants, which will end on the day of Father's Day, which this year falls on June 19, 2011. 400 selected winners will get one of the limited edition bottles as a present.
A similar retro bottle of Pilsner Urquell became a big hit at the Christmas fair last year. The current edition issued for Father's Day is just as unique a collectible item that will grab attention of not only Pilsner Urquell brand devotees but also those who collect beer related items.
For more information contact:
Vladimír Jurina, Plzeňský Prazdroj, Tel. +0420 724 617 886
Notes for editors

With its total sale of 9,9 million hectoliters during the calendar year of 2010 (including licensed productions abroad) and with its export to more than 50 countries worldwide, Plzeňský Prazdroj Inc. is the prominent beer producer in the region and the biggest exporter of Czech beer.
Plzeňský Prazdroj Inc. is a member of SABMiller plc. group. Pilsner Urquell is the international flagship brand of the SABMiller brand portfolio.
SABMiller plc. is one of the world's biggest beer brewing companies with beer brewing activities or distribution in more than 60 countries across six continents. SABMiller's brand group include such important brands as Pilsner Urquell, Miller Genuine Draft, Grolsch, Peroni Nastro Azzurro, and many other successful regional brands.
Plzeň