Pilsner Urquell brewed in the expanded Brewhouse tastes as 176 years ago
23.7.2018
Pilsner Urquell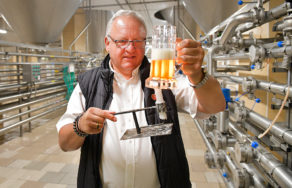 The very first batch of Pilsner Urquell beer brewed in the expanded Pilsner Urquell brewhouse is ready to set off on its journey to consumers. On Monday, 5 weeks after the Brewhouse's ceremonial opening, which is exactly the time required to produce the legendary lager, the brew's quality was checked by Vaclav Berka, Plzensky Prazdroj's Senior Trade Brewmaster.
"The legendary lager is still brewed according to the same recipe used in the year in which it originated. Thanks to the quality and nature of the new brewing technology, which was fine-tuned in test production, we can rest assured that after the brewhouse expansion, the taste remains the same. Which is exactly what today's check has proved, and the beer is all ready to go to customers," said Vaclav Berka.
Plzensky Prazdroj's investment in production capacity expansion came in response to growing demand for Pilsner Urquell. As a result, the brewery's production capacity has increased by approximately one-third to approx. 3.5 million hectolitres per year. The majority of the investment, which totalled 280 million Czech crowns, went into the expansion of the brewhouse capacity, including a new mash tun, two copper mash kettles, a lauter tun and wort kettle. A smaller amount was used to purchase ten new cylindro-conical tanks in which the beer ferments and matures.
Jitka Němečková, Plzeňský Prazdroj's spokesperson and Spokesperson of The Year 2018, is available to the media on the following contacts:
Mobile phone: 731 193 191 
E-mail:
 
Notes for editors:
In 2017, Plzensky Prazdroj's sales volumes in both the domestic market and abroad exceeded 11 million hectolitres; domestic production volumes amounted to 7 million hl, export volumes exceeded 1.5 million hl and licenced production totalled 2.6 million hl. With exports to more than 50 countries around the world, Plzensky Prazdroj is a major beer producer in the region and the largest exporter of Czech beer.
For its long-term contribution to promoting corporate social responsibility in the Czech Republic, Plzensky Prazdroj was awarded the Gold Certificate in the 2017 TOP Responsible Company competition, Large Business category.