Pilsner Urquell from the tank now available in nearly 90 restaurants outside Czechia
22.12.2017
Pilsner Urquell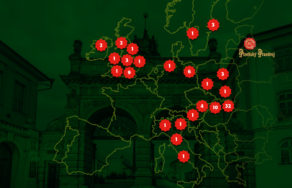 Admirers of the premium Pilsner Urquell from the tank can enjoy the beer in tank pubs outside the Czech Republic as well. A total of 88 tank pubs and restaurants offering Pilsen's premium lager are now available in nine European countries. "More tank pubs will be opened in the following months," says Tomáš Mráz, Sales Director of Plzeňský Prazdroj.
Slovakia operates 42 tank pubs that offer Pilsner Urquell lager, the highest number in abroad. Customers can enjoy lager from the tank in Bratislava as well as in other cities, such as Košice, Žilina, Poprad, Nitra, Trnava, Trenčín, Prešov, and Piešťany.
The second ranking country is the United Kingdom with 17 tank pubs; two are currently open in Ireland. Pilsner Urquell from the tank is available especially in London, which has nine such establishments. Others are in Manchester, Liverpool, Leeds and Edinburgh; Ireland's two tank pubs are located in Dublin. Germany has seven tank outlets in Berlin and Hamburg; five are open in Austria (Vienna and Graz) and Poland (Warsaw, Wroclaw and Krakow). Others are in Italy, Sweden, and Hungary.
Plzeňský Prazdroj started exporting tank beer as early as 2009. That year, the first two tank outlets serving Pilsner Urquell opened in Bratislava and Vienna.
The quality of beer in abroad tank outlets in is monitored by a team of Pilsen's brewmasters. Václav Berka, Senior Trade Brewmaster of Plzeňský Prazdroj, has recently returned from an inspection trip abroad. "The British are accustomed primarily to top-fermented beers that are offered with nearly no foam. Nonetheless, they are searching for new, unusual tastes, and our lager, tapped in a single pour with rich, wet foam, is becoming more and more popular. Our tank pubs are almost constantly packed with guests; this also holds in abroad," Václav Berka says.
Annex: Pilsner Urquell tank pubs outside the Czech Republic
Pilsner Urquell Tank Outlets
Austria
1
Wien
Wirtshaus Sattel
Freyung 6
2
Wien
The Brickmakers Ale
Zieglergasse 42
3
Wien
It's all about the meat Baby
Franz Josef – Kai 3
4
Wien
Badeschiff
Donaukanal
5
Graz
Propeller
Zinzendorfgasse 17
Germany
6
Berlin
Klunkerkranich
Karl Marx – Strasse 66
7
Berlin
Stock und Stein
Wuhlischstasse 43
8
Berlin
Kohlenquelle
Bezirk Pankow
9
Berlin
Inselgarten
Alt Treptow 6
10
Berlin
Tanta Lizbeth
Bezirk Friedrichshain Kreuzberg
11
Berlin
Birgit und Bier
Schleusenufer 3
12
Hamburg
Wald
Grossneumarkt
Hungary
13
Budapest
Anker't
Paulay Ede u.33
14
Budapest
Anker
Anker Koz 1-3
Ireland
15
Dublin
The Bridge 1859
13 Ballsbridge Terrace
16
Dublin
Lemon and Duke
1 Royal Hibernian Way
Italy
17
Roma
Scholars Lounge
Via del Plebiscito 101
18
Milan
Cheers pub
Via Casoretto 8
19
Bovoleno VR
Bar San Pierino
Via S.Pierino 70
20
Modena
Mr Brown
Via dei Gallucci 3
Poland
21
Warszawa
Bohemia
Jana Pawla 11 23
22
Warszawa
Ceska
Chmielna 35
23
Warszawa
Aioli Mini
Plac Konstytucji 5
24
Wroclaw
Ceska
Swidnicka 8A
25
Krakow
The Tank bar
Meiselsa 18
Slovakia
26
Košice
Pilsner Urquell Pub
Námestie Osloboditel´ov 1
27
Košice
Pub u Kohuta
Hrnčiarska 23
28
Bratislava
Orim Restaurant
Saratovská 10/A
29
Bratislava
Reštaurácia Alfa 1
Jiráskova 1
30
Bratislava
U Smädného Mnícha
Ľudovíta Fullu 1, Karlova Ves
31
Bratislava
Hostinec U Deda
Zálužická 49
32
Bratislava
Kolkovna Restaurants River Park
Dvořákovo nábrežie 10
33
Bratislava
Piváreň U Bizóna
Hraničná 825/2
34
Bratislava
Kolkovna Eurovea
Pribinova 8
35
Bratislava
Mamut Pub
Ferienčíkova 2372/13
36
Bratislava
Randal
Karpatská 3089/2
37
Bratislava
Knajpa
Černockého 2256/2
38
Nitra
Irish Times Pub
Kupecká 12
39
L. Mikuláš
Route 66
Garbiarska 627
40
Trnava
Piváreň Pilsner Urquell
Šafárikova 16
41
Trnava
Reštaurácia Relax
Starohájska 6868/10
42
Senica
Pivný Bar – Ag Play
Janka Kráľa 727
43
Banská Bystrica
Pilsner Restaurant
Námestie SNP 17
44
Banská Bystrica
U Richtára
Námestie SNP 11
45
Malacky
Plzeňská Reštaurácia
Jesenského 3
46
Topoľčany
Hospůdka u Švejka
Nám. M. R. Štefánika 2/5
47
Nové Zámky
Chilli Pub
Svetozára Hurbana Vajanského 74
48
Galanta
Piváreň Oáza
Z. Kodálya 784/1
49
Prievidza
Miki Bar – Pivárska Bašta
 Stavbárov 13
50
Prievidza
Piano Club
Energetikov 193/29C
51
Poprad
Pizzeria Utopia
Dostojevského
52
Poprad
Piváreň a Reštaurácia Hodovňa
1. mája 215/5
53
Senec
Country Saloon
Slnečné jazerá – sever 2467
54
Š. Pleso
Hotel Toliar
Štrbské Pleso 21
55
Žilina
Plzenská reštaurácia & pivárium
Mariánske námestie 2
56
Partizánske
UniSport
Nitrianska 13
57
Trenčín
Fontaine D´OR TN
Štúrovo námestie 133/18
58
Trenčín
Boston Pub
Zlatovská 2175/20
59
Šamorín
Koliba
Dubová, Čilistov
60
Bojnice
Piváreň Meridiana
Prievidzská cesta 55
61
Bojnice
Piváreň Meridiana 2
Prievidzská 1241/55
62
Piešťany
Piváreň u Páva
Sad A. Kmeťa 1806/9
63
Piešťany
Piváreň u Čiernej pani
Teplická 2283/44
64
Hlohovec
Piváreň na Rinku
Mútne 169
65
Zvolen
Piváreň West
E. P. Voljanského 1
66
Podhájska
Gazdovský Dvor
Termálna
67
Pezinok
Charlie Urquell Pub
Radničné námestie 4651/1
Sweden
68
Stockholm
Bar Central
Skanegatan 83
69
Stockholm
Bar Central
Birger Jarlsgatan 41
70
Stockholm
Ile Roi Usine
Fleminggatan 7
71
Gothenburg
Gyllene Prag
Sveagatan 25
United Kingdom
72
London
White Horse
1-3 Parson's Green
73
London
Strongroom
120 -124 Curtain Road
74
London
Draft House
14-15 Seething Lane
75
London
Draft House
Chancery Lane
76
London
Draft House
Old Street
77
London
Globe
Moorgate
78
London
The Duck and Rice
90 Berwick Street
79
London
Pergola
5 Kingdom St,
80
London
Galvin Hop
35 Spital Square
81
Cambridge
Grain and Hop
69-76 Regent Street
82
Leeds
Headrow House
Bramley's Yard 19
83
York
Star in the City
Station Road
84
Manchester
Albert Schloss
27 Peter Street
85
Manchester
The Smokehouse and Cellar
Lloyd Street
86
Manchester
Cooper Hall
Dale Street
87
Liverpool
Porky's Ski Hütte
A 5038
88
Edinburgh
Brewhemia
1A Market Street
Jitka Němečková, Spokesperson of Plzeňský Prazdroj, is available to the media at these contacts:
Cell: +420 731 193 191 
E-mail:
Notes for the editors:
With total sales of almost 11 million hectolitres in 2016 (including licensed production abroad) and exports to more than 50 countries around the world, Plzeňský Prazdroj, a.s. is a major beer producer in the region and the largest exporter of Czech beer.
For its long-term contribution to promoting corporate social responsibility in the Czech Republic, Plzeňský Prazdroj, a.s. was awarded the Gold Certificate in the 2017 TOP Responsible Company competition. The company received the award also in 2016. This year, Plzeňský Prazdroj received the Gold Certificate also for Responsible Reporting and Diversity Strategy.