Plzeňský Prazdroj successfully saves another tradition – in exchange for a beer sign, you can get a deputized beer
25.10.2011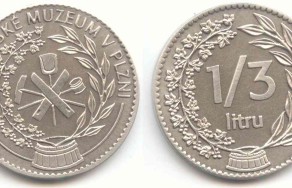 "People respond well to traditions, and in bringing the exchange custom – where brewers could get 3 liters of beer for their coins – back to life, we have prepared a unique experience of beer–brewing history for visitors of the Museum and of the Underground. You cannot get an allotment of beer anywhere else, and that is why it is such a great success," said Martin Buchlovský of the Beer Brewing Museum.
Metal beer coins mainly served as specially designated currency in Czech breweries. At the break of the 19th and 20th century, employees got their employees' or "deputized" beer in exchange for them. Some of the coins survived until the end of the century.
Since the Fall of 2006, the tradition of beer coins has been coming to life again thanks to Plzeňský Prazdroj and Beer Brewing Museum in Plzeň. They are issued in aluminum, brass, copper, and silver form. The aluminum ones are available exclusively as a part of the entrance to Beer Brewing Museum or to Plzeň Historic Underground, and so they are in the highest demand. 32,600 of them were issued in 2006, and three years later it was necessary to issue an additional edition of 7,000 coins. Copper, brass, and silver coins are available to tourists and collectors for purchase in the gift shop at the brewery's courtyard or in the museum. Half of the visitors will eventually exchange their coins for beer. The rest will keep them as souvenirs.
Since October 2006, Beer Brewing Museum issued 75,000 beer coins. Plzeň Historic Underground released an additional 20,000 pieces into circulation.
Plzeňský Prazdroj Brewery, as the last brewery in central Europe that preserves and further supports the art of cooperage, successfully brings to life yet another unique beer–brewing tradition.
*With the purchase of the ticket, every adult visitor of Beer Brewing Museum automatically receives an aluminum beer coin marked with the inscription "Beer Brewing Museum" good for 0.3 liter of Pilsner Urquell beer. Every adult visitor of Plzeň Historic Underground will receive a coin good for 0.2 liter of a special beer Master, also in aluminum form. People may then exchange their beer coins for a given amount of a given beer in one of the selected Plzeň pubs, or save them as souvenirs.
More about the Beer Brewing Museum
Beer Brewing Museum in Plzeň is the oldest of its kind in the world and the only such specialized workstation in the Czech Republic. The museum documents the story of beer since its beginnings, from antiquity to the rise of gigantic, industrial breweries. The museum is located in the original house with the rights of beer brewing. It includes, for example, a Gothic malt–house, a forest, and two–level lager cellars with ice rooms that lead into the underground. Besides that, you can find there a unique, functional model of a beer brewery, or a collection of bottles and tankards. Next to the museum there is the tavern "Na Parkánu."
Notes for editors:

With its total sale of 9.9 million hectoliters during the calendar year of 2010 (including licensed productions abroad), and with its export to more than 50 countries worldwide, Plzeňský Prazdroj Inc. is the most prominent beer producer in the region and the biggest exporter of Czech beer.
Plzeňský Prazdroj Inc. is a member of SABMiller plc. group. Pilsner Urquell is the international flagship brand of the SABMiller brand portfolio.
SABMiller plc. is one of the world's biggest beer–brewing companies with activities or distribution in more than 60 countries across six continents. SABMiller's brand group includes such important brands as Pilsner Urquell, Miller Genuine Draft, Grolsch, Peroni Nastro Azzurro, and many other successful regional brands.
Contact:
Jiří Mareček
Manager external communication
Phone: +420 724 617 219
Plzeň