Plzeňský Prazdroj Bottling Plant Celebrates Its Fifth Anniversary
7.12.2011
Company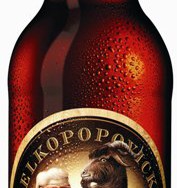 "The output of the two lines designed to process refundable and nonrefundable bottles for seven bottle types and many product designs is 120,000 bottles per hour. Both bottling lines are operated by 15 workers per shift so as to make one of them work continuously, and the other one with the same number of workers every other week. Under one roof, we also have a canning line with the output of 31,000 for 500ml cans and 39,000 for 330ml cans per hour. The canning line is operated by four workers per shift based on a three–shift operation per day. Thanks to a high technological level of this equipment we can easily supply not only the Czech market but also more than 50 other export countries," explained the plant's specifications Vítězslav Kouba, plant's Manager.

Since its launch, the plant is constantly updated according to ever changing demands of the market. Addition of a modern and expanded raw materials storage area is one of the additional investments. The bottling line in Plzeň is exceptional also for its flow pasteurisation process that is especially beer–friendly. Flow pasteurisation process helps preserve the original taste of the beer as well as to extend its expiration period, which is the key factor that separates Pilsner Urquell from other beers for its ability to be exported to far distant countries overseas.

The plant occupies area of 20,000 m2, or approximately five soccer fields. It was built in 2006 in the unbelievably short period of seven months. It represents the biggest recent investment of Plzeňský Prazdroj comp. The cost was 1 billion CZK.

The bottling plant is also one of the attractions of visitors tours of Plzeňský Prazdroj brewery. During its five years in operation it was visited by about 625,000 visitors.

Notes for editors:

With its total sale of 9,9 millions of hectolitres during the calendar year of 2010 (including licensed productions abroad) and with its export to more than 50 countries worldwide, Plzeňský Prazdroj Inc. is the prominent beer producer in the region and the biggest exporter of the Czech beer.
Plzeňský Prazdroj Inc. is the member of SABMiller plc. group. Pilsner Urquell is the international flagship brand of the SABMiller brand portfolio.
SABMiller plc. is one of the world's biggest beer brewing companies with beer brewing activities or distribution in more than 60 countries across six continents. SABMiller's brand group include such important brands as Pilsner Urquell, Miller Genuine Draft, Grolsch, Peroni Nastro Azzurro, and many other successful regional brands.

Contact:
Jiří Mareček
Manager external communication
Phone: +420 724 617 219
Plzeň