Radegast Invested Millions of Crowns (CZK) to New Projects Aimed at Conserving Water
10.1.2012
Company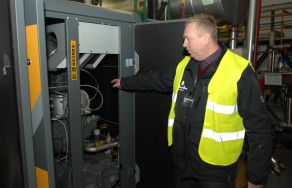 A mindful use of water is a Radegast brewery long–time goal. "Water is a precious material and so the maximum conservation of it is a part of our responsible approach. The result of our projects from past few years is that measured consumption of water per 1 hl of beer did not exceed 3 hl of water. That places us to those among the top breweries in the world," said Ivo Kaňák, Radegast Brewery Manager.
The main investment in the amount of 3 million Czech crowns was installation of a new compressor for compressed air production with the heat recovery in 2011. The compressor decreases the water consumption by 250,000 hl because it allows effective cooling water heating at 80°C and thus provides possibility of another use of the hot water, while the old system was not able to do so. Heating of cooling water within the compressor is possible due to a built–in system that uses the cooling water circulation through individual components of the compressor. "Water heated up within the compressor is further used in the hot–water heating system of the brewery. The compressor produces the highest level air and is utmost effective. Every year we conserve a significant amount of water and on top of it we also get 2,300 GJ of heat. The realisation of this project is a result of Sustainable Resources Department team work and our ability to effectively implement the newest technologies," said Ivo Kaňák, brewery's Manager while explaining functionality of the compressor.
Next to the compressor, the brewery has invested into other improvements like new washing technology in barrel–bottling room, process changes in production room and in CO2 capturing, use of recycled water from bottling plants for rinsing, and water treatment plant. All these projects together are conserving more than 750.000 hl water a year.

Notes for editors:
Beer brewery Radegast, one of the most modern beer breweries in Czech Republic, has produced beer since 1970.
Radegast Brewery has been a member of the biggest Czech beer brewing group Plzeňský Prazdroj, Inc. since 1999.
For its social and civic responsibility in 2011, Plzeňský Prazdroj received Regional Governor's Award. The award is announced by the Governor of Moravia-Silesia region together with the Chairman of Quality Council of Czech Republic.
Plzeňský Prazdroj became the Most Responsible Company of 2011. The award for responsible business conduct is announced for the eight time by Business for Society platform.
Ten priorities of sustainable development of Plzeňský Prazdroj: 1. Responsible alcohol consumption awareness campaign, 2. Conserving water, 3. Decreasing energy consumption, 4. Use of recycled and returnable packaging material, 5. Direction towards the zero waste production, 6. Cooperation with partners sharing same business ethic values, 7. Respect for human rights, 8. Support of the fight against HIV/AIDS, 9. Support of regional development, and 10. Transparent communication and clear business result accessibility.
With its total sale of nearly 10 million hectolitres during the calendar year of 2011 (including licenced productions abroad) and with its export to more than 50 countries worldwide, Plzeňský Prazdroj Inc. is the preeminent beer producer in the region and the biggest exporter of the Czech beer.
Plzeňský Prazdroj Inc. is a member of SABMiller plc. group. Pilsner Urquell is the international flagship brand of the SABMiller brand portfolio.
SABMiller plc. is one of the world's biggest beer brewing companies with beer brewing activities or distribution in more than 60 countries across six continents. SABMiller portfolio includes important international Brands such as Grolsch, Miller Genuine Draft, Peroni Nastro Azzurro, and Pilsner Urquell, as well as almost 200 successful regional and national brands.

Contact:
Jiří Mareček
Manager external communication
Phone: +420 724 617 219
Nošovice