Plzeňský Prazdroj sales slightly increased, driven by lagers and speciality beers
9.2.2012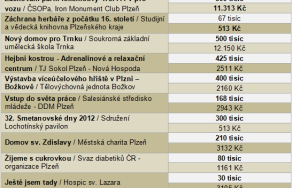 "After the past several years affected by adverse economic conditions, the market is slowly stabilizing. Premium brands and speciality beers did particularly well last year. Further development of the market may be impacted by the insecure economic situation in Europe and subdued consumer confidence," says Doug Brodman, CEO of Plzeňský Prazdroj.
The market is starting to stabilize with lager and speciality beer sales on the increase
Overall beer sales have stabilized at 2010 levels. Lager sales went up by 4% last year and benefited from volume growth of our Premium beer brands, particularly Pilsner Urquell. This brand outperformed the beer market and also the premium category last year. Also the Frisco brand showed strong performance with the introduction of our new Cranberry variant. Despite continuing pressure in the on-premise channel, the share of beer consumed in pubs and restaurants is around 45%, which is unique in the world and only proves how exceptional Czech beer culture is.
Record year in exports
Despite the fragile global economy, last year's exports rose mainly in countries with already high sales of Plzensky Prazdroj beers, such as Slovakia, Canada and Hungary.
Plzeňský Prazdroj is the leading exporter of Czech beer. By 1870 the brewery already exported its beer to more than 30 countries around the world, including overseas, and has long been building a reputation for Czech beer around the world. Thanks to its reputation, but also good cooperation with exporters and an appropriate mix of marketing and trade-marketing tools, demand for Plzeňský Prazdroj's beer brands abroad has reached 890 thousand hl, which is a new historical record.

Notes for editors:
With total sales of almost 9.9 million hectolitres in 2011 (including licensed production abroad) and exports to more than 50 countries around the world, Plzeňský Prazdroj is a major beer producer in the region and the largest exporter of Czech beer.
Plzeňský Prazdroj, a.s. is a member of SABMiller plc. Pilsner Urquell is the international flagship of the SABMiller brand portfolio.
SABMiller plc is one of the world's largest brewers, with brewing interests or distribution agreements in over 60 countries across six continents. The SABMiller brand portfolio consists of international brands such as Pilsner Urquell, Miller Genuine Draft, Grolsch, Peroni Nastro Azzurro, as well as many other successful regional brands.

Enquiries
Plzeňský Prazdroj
Jiří Mareček, Spokesperson
Tel: +420 724 617 219
Plzen