Mora's captain made a bet. Is he going to be cleaning tanks in brewery's lager cellar?
22.2.2012
Radegast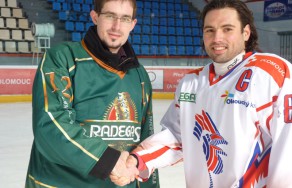 Lager tanks are the place where the beer matures under optimum temperature of 30–32o F for a period of several weeks. It is there, where Radegast gains its characteristic "pep." "Tank cleaning is a traditional manual work performed by experienced brewers who prepare them with meticulous attention for a maturing process of the next batch. It is a very hard work that is not for everybody," Ivo Kaňák, Manager of Radegast brewery, explained a possible task of Olomouc captain. He also added that Mora's defenseman will need help: "Tank must be perfectly clean, and that requires a lot of experience. And therefore, Jakub will have our specialist for company."

However, Jakub Bartoň is confident. "Finals are within our reach. We were able to give a little bit of a headache to favourite teams in the first part of the competition, and I am confident the team will help me to win this bet. We must make it happen this time." Mora's current captain hinted at the fact that his predecessor has lost the last two bets he made with the Radegast representative.
Notes for editors:
Radegast beer brewery, one of the most modern beer breweries in Czech Republic, produces beer since 1970.
Radegast brewery is a member of the biggest Czech beer brewing group Plzeňský Prazdroj, Inc. since 1999
With its total sale of nearly 10 millions of hectoliters during the calendar year of 2011 (including licensed productions abroad) and with its export to more than 50 countries worldwide, Plzeňský Prazdroj Inc. is the preeminent beer producer in the region and the biggest exporter of the Czech beer.
Plzeňský Prazdroj Inc. is a member of the SABMiller plc. group. Pilsner Urquell is the international flagship brand of the SABMiller brand portfolio.
SABMiller plc. is one of the world's biggest beer brewing companies, with beer brewing activities or distribution in more than 60 countries across six continents. SABMiller portfolio includes important international Brands such as Grolsch, Miller Genuine Draft, Peroni Nastro Azzurro, and Pilsner Urquell, as well as almost 200 successful regional and national brands.
Contact:
Jiří Mareček
Manager external communication
Phone: +420 724 617 219
Olomouc