This Year, Lada's Pork Feast in Velké Popovice will be a Sign of the Eleven
27.2.2012
Velkopopovický kozel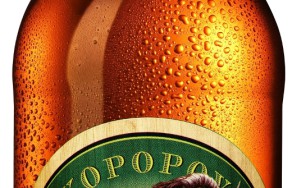 Velkopopovický Kozel invites all lovers of traditional homemade Czech pork delicacies and good beer to their pork feast. There, you can enjoy 11 delicious pork delicacies: blood–sausage, liver/meat sausage, pork feast soup, pork feast goulash, head–cheese, dark and light hash, cracklings, pork jelly, pork knees, and ham on a bone from a grill on Saturday, March 3, 2012 at 10:00 a.m. Well drafted beer is an unmistakable part of a good pork feast; Velkopopovický Kozel 11° will reward you with its fuller taste that will go down as well. Thanks to its well balanced caramel malt taste gently married with subtle bitterness of hops, Velkopopovický Kozel 11° got many awards in prestigious Czech, as well as international, competitions. In 2011, Kozel won the Golden Cup Pivex in the category of 11° beers. In 2010, Kozel brought home second place from the International Competition Australian Beer Awards, and second place from the Czech Beer of the Year competition.
"Pork feast is a very popular event in our brewery; two thousand visitors is not a surprising number. This year, we have prepared a pork feast as a sign of the Eleven. We will be serving 11 pork delicacies that we recommend to be washed down with the very popular Velké Popovice Eleven," Eva Kršňáková, Director of Visitor Center of Velké Popovice brewery said while inviting to the event.
The pork feast will take place traditionally in the brewery and in the nearby original pub, Kozlovna. Fair crafts of a master blacksmith and a basket weaver will be part of the program. A master butcher will demonstrate meat cutting, and an accordion player together with a violinist will make sure the mood stays light and happy. Every half an hour, visitors will have a chance to follow the trail of Kozel along the guided visitor tour, and to enjoy the company of the brewery's live mascot, billy–goat Olda. The event starts at 10:00 a.m. The entrance is free.
For more information:
Vladimír Jurina, Brand PR Manager,
e-mail:
Notes for editors:
Lada's pork feast (Josef Lada, Czech writer and illustrator, famous for illustrating Svejk) is happening for the third time in Velké Popovice brewery this year. This year's theme is 11 pork feast delicacies accompanied with Kozel 11° Medium.
Kozel 11° Medium is a regular home and international award recipient. Association of Czech Breweries awarded it the Golden Cup Pivex last year. In 2008, it took home the first prize from the "World Best Premium Lager" event in Great Britain, and the silver medal from the "Australian International Beer Awards" in Melbourne, Australia.
Velké Popovice brewery is a part of Plzeňský Prazdroj, Inc., which is the foremost producer of beer in Central Europe. Plzeňský Prazdroj is also the biggest exporter of Czech beer exporting beer to more than 50 countries around the world.
Plzeňský Prazdroj, Inc. is a member of SABMiller plc, the second largest beer producer in the world with beer brewing and exporting activities in more than 60 countries around the world and across 6 continents.
Velkopopovický Kozel has an important place in Plzeňský Prazdroj portfolio. It is one the most dynamically developing brands in Czech as well as international markets. Velkopopovický Kozel Dark is also the leader among dark beers in the Czech beer market.
The first batch of Velké Popovice beer was brewed on December 15, 1874, and just a year later, 18,000 hectolitres of beer were produced. After only a few years, the brewery became the third biggest brewery in the country. It is famous especially for its production of a strong, dark beer.
You can find the most recent information about activities and projects supported by Velké Popovice Kozel brand on the web at www.kozel.cz.
Weekend TIP – Lada's Pork Feast
Velké Popovice, Saturday, March 3, 2012 (10:00 am – 3:00 pm)
Pork feast in Velké Popovice will be a sign of the Eleven this year. Come to enjoy 11 tasty pork delicacies: blood–sausage, liver–sausage, pork feast soup, pork feast goulash, head cheese, dark and light hash, cracklings, pork jelly, pork knees, and ham on a bone from a grill. All that accompanied by sparkling Kozel 11° Medium. Free entrance.
Praha