Radegast Comes up with Unique Solution for Ecological Liquidation of Disposable Labels
29.2.2012
Company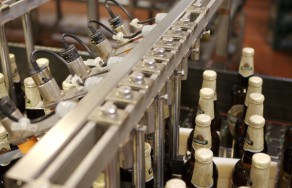 "A secondary use of our waste is one of the priorities of our sustainable development strategy. At this time, we are handling most of our waste in an ecological way. Labels were one of the last problems we were looking to solve," said Ivo Kaňák, Radegast Brewery manager.
The project commenced in September of 2011 with sampling, conducting analyses, and testing composting processes for labels at the plant. The composting plant received official permission for composting labels in December of 2011.


"The know-how for composting labels is a good future ecological solution for many food processing companies that, until now, were dumping their waste that was produced by washing recyclable packaging at landfills. Moreover, the composting is more economical. Our brewery saves 200.000 CZK a year now," Kaňák added.
Disposable labels make up 30 percent of mass during the composting process. Other components include water–free sediments from water treatment plants, disposable plants, and liquid waste. The maturing process of compost takes place in special compartments for 90 days. Temperature inside the compost reaches up to 80°C (176¬°F).
A controlled process, carefully watched by specialists from a designated composting company, results in a landscaping substrate that is certified by the Central Control and Testing Agricultural Institute.
Notes for editors:

Radegast Brewery, one of the most modern beer breweries in the Czech Republic, has produced beer since 1970.
Radegast Brewery has been a member of the biggest Czech beer brewing group, Plzeňský Prazdroj, Inc., since 1999.
With total sales of nearly 10 million hectolitres during the calendar year of 2011 (including licensed production abroad) and with export to more than 50 countries worldwide, Plzeňský Prazdroj Inc. is the preeminent beer producer in the region and the biggest exporter of Czech beer.
Plzeňský Prazdroj Inc. is a member of SABMiller plc. Pilsner Urquell is the international flagship brand of the SABMiller portfolio.
SABMiller plc. is one of the world's biggest brewing companies, with brewing activities or distribution in more than 60 countries across six continents. The SABMiller portfolio includes important international brands such as Grolsch, Miller Genuine Draft, Peroni Nastro Azzurro and Pilsner Urquell, as well as almost 200 successful regional and national brands.


Contact:
Jiří Mareček
Manager external communication
Phone: +420 724 617 219
Nošovice