New Frisco Black Currant
24.4.2012
Uncategorized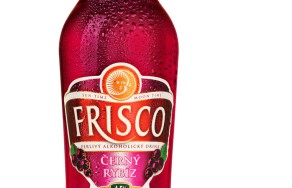 The popular drink Frisco has merged its power with the mystical taste of black currant and created a unique experience for your taste buds. Frisco gained a completely new taste with the addition of the little black berry. In it, you will find the typical taste of a malt base and a pleasant fizzyness with 4.5% of alcohol. Moreover, you can look forward to a refreshing taste full of surprising twists. The rich, dark red colour of our new Frisco competes with the colour of a precious ruby and will highlight your personal style.
Black currant ripens in high summer and its refreshing, fruity aroma will transport you to a worry–free vacation mood. You can enjoy Frisco Black Currant with your girlfriends or take it with you to a grilling party. The same as you, it is no party–pooper, and everyone will find their own pleasure in it. You can bet your life on Frisco and let the prejudice go.
Black Currant variety is sold in an elegant 0.33 litre bottle that fits your hand perfectly. Moreover, thanks to its twist–to–open top, you can leave the opener at home. You can find Frisco Black Currant at your local retailer for a recommended retail price of 21,90 CZK (about $ 1.10), and in your favourite bar or restaurant for about 35,- CZK (about $ 1.90).
Since Frisco Black Currant is defying clichés on all fronts, it is also coming out with a brand new website: www.friscodrink.cz. There you can find the best of the uniqueness of Czech streets: pictures of interesting outfits, jewellery, accessories, and events that are worthy of your attention. Get inspired by Frisco and read interviews with exceptional women.
Plzeň