Newly "Dabbed" Coopers Are Working On A 170 Litre Barrel To Mark The Occasion Of The 170th Anniversary Of The Brewery And Pilsner Urquell Beer
15.5.2012
Uncategorized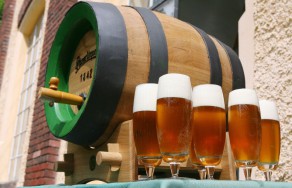 After three years of apprenticeship in the ancient art, Ladislav Brůha and Karel Hofman finally entered the guild of master coopers. The final work on a 38 hectolitre lager barrel – called "the bottom of the formwork" – was part of the initiation requirements. That was followed by the traditional "slap," according to an old custom, and then the introduction of ten 170 litre barrels built by the coopers gang for this year's celebration of the 170th anniversary of Plzeňský Prazdroj Company and Pilsner Urquell lager.
"Plzeňský Prazdroj is one of the last places in Europe where we preserve the art of the ancient craftsmanship of master coopers. The coopers build and fix barrels using complicated, traditional methods that are preserved and passed on from generation to generation. To preserve this art, it is important to educate new master coopers. A very interesting exhibition called "The Ancient Art of Master Coopers" is on display in the Beer Brewing Museum on Veleslavínova Street until the end of May. I do recommend visiting the exhibition to all those who wish to learn more about this truly rare art," said Jindřiška Eliášková, Manger of Tourism and Historic Heritage of Plzeňský Prazdroj comp.
In Prazdroj, they literally pamper the coopers' art not only for their respect for tradition but also for practical reasons. Beer maturing the old way, in oak barrels placed in the cellars of the brewery, serves as a constant comparison to beer brewed using modern technologies.
The beginnings of coopers' art go way back to the 8th century. In the Middle Ages, it was considered an honourable profession. Sons of a sweeper, an executioner, or perhaps a wood guard were not allowed to acquire the art. Today as well, the profession requires many skills. The original Plzeňský Prazdroj coopers house was opened during the founding of the brewery in 1842, and the company is looking for potential coopers among experienced carpenters. Today, the brewery employs 7 master coopers.
"Working with wood, especially working on lager barrels and fermenting tubs, is a beautiful and traditional craft, and I am certainly proud to be dabbed a master cooper today. There is always something to be learned from our older colleagues in this hard, honest work," said Ladislav Brůha, one of the new master coopers. "Both of us, Láďa and myself, are originally carpenters. We fell in love with woodworking a long time ago, but the coopers art, especially beer making coopers art, is something special. An ancient craft. That is why we have decided to become coopers. It does require a lot of hard work, well, it is truly a man's work," Karel Hofman added with a smile.
The wood selected for barrels and tubs must fulfil strict criteria. Oak wood exclusively is used building beer barrels. The oak trees must be at least 70 cm in diameter and there must be no branches up to 10 m of their height. The oaks are taken down in places with harder subsoil so they grow slower. Minimal increment, or close proximity of growth rings, is very important so the barrel will not leak. Winter is the best season for logging: the trees do not contain so much sap during the vegetation rest. Before it is used for barrel building, the wood must dry in stacks for at least 6 years.
Notes for editors:

With total sales of nearly 9.9 million hectolitres during the calendar year of 2011 (including licensed productions abroad) and with its export to more than 50 countries worldwide, Plzeňský Prazdroj Inc. is the preeminent beer producer in the region and the biggest exporter of Czech beer.
Plzeňský Prazdroj Inc. is a member of SABMiller plc. group. Pilsner Urquell is the international flagship brand of the SABMiller brand portfolio.
SABMiller plc. is one of the world's biggest beer brewing companies with beer brewing activities or distribution in more than 60 countries across six continents. The SABMiller portfolio includes important international Brands such as Grolsch, Miller Genuine Draft, Peroni Nastro Azzurro, and Pilsner Urquell, as well as almost 200 successful regional and national brands.
Contact:
Jiří Mareček
Plzeňský Prazdroj
+420 724 617 219
Plzeň