The Best Gastronomy Will Be Once Again Accompanied By Pilsner Urquell
22.5.2012
Pilsner Urquell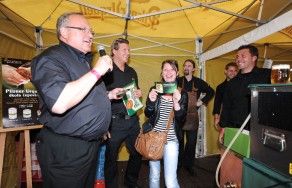 For a very long time, the premium lager Pilsner Urquell has naturally supported high quality gastronomy represented with no doubt by Prague Food Festival. "Pilsner Urquell beer supports partners and projects that strive to elevate Czech gastronomy. That is the reason behind our partnership with this most prestigious culinary event in Czech Republic," Jan Šolta, Pilsner Urquell Brand Manager said.
The festival visitors will have a chance to taste not only the premium lager but also new additions to Plzeňský Prazdroj's beer portfolio; the already well-known and popular beer Master in all its varieties will appear at the festival next to Phoenix, the new beer with a fresh taste of wheat malt, orange peels, and a dash of cilantro. Pilsner Urquell's Senior Marketing Master Brewer Václav Berka will talk about every beer; he will also recommend appropriate foods designed by top Czech chefs to go with them.
The spotlight will fall on the premium lager Pilsner Urquell during the Pilsner Urquell Master Bartender contest. Those interested from the public will take on taps and learn how to draw a perfect "Pilsen" under the watchful eye of Lukáš Svoboda, World Beer Tapping Champion. The most successful ones will take home not only many useful instructions and much information about beer history and production but also the title of Pilsner Urquell Beer Tapping Apprentice PFF 2012.
Many visitors of Prague Food Festival will be standing behind the bar for the first time in their lives. "I will let them try drawing their first beer their own way. They are usually happy with themselves until they try tapping the next one according to correct rules of beer tapping. Then, they can really see the difference in foaming, taste. I enjoy seeing their honest surprise and excitement. Now, they will be able to supervise the maintenance of the beer in their favorite pub. That is the moment when I see that my bartending school makes the real difference," Master Bartender Lukáš Svoboda shared his experience.
For more information contact:
Vladimír Jurina, Plzeňský Prazdroj, phone: +420 724 617 886

Notes for editors:

With its total sale of nearly 9.9 million hectolitres during the calendar year of 2011 (including licenced productions abroad) and with its export to more than 50 countries worldwide, Plzeňský Prazdroj Inc. is the preeminent beer producer in the region and the biggest exporter of the Czech beer.
Plzeňský Prazdroj Inc. is a member of SABMiller plc. group. Pilsner Urquell is the international flagship brand of the SABMiller brand portfolio.
SABMiller plc. is one of the world's biggest beer brewing companies with beer brewing activities or distribution in more than 60 countries across six continents. SABMiller portfolio includes important international Brands such as Grolsch, Miller Genuine Draft, Peroni Nastro Azzurro, and Pilsner Urquell, as well as almost 200 successful regional and national brands.
Plzeň