To Celebrate Its 170th anniversary, Plzeňský Prazdroj Issues Gold And Silver Commemorative Coins
28.5.2012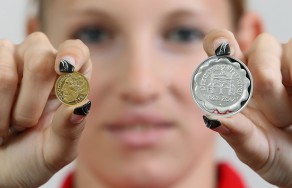 170 gold coins, minted in the famous Czech Mint in Joblonc nad Nisour, have been issued in honour of the 170th anniversary of Pilsner Urquell Brewery, as a surprise to fans of Pilsen beer and collectors alike.
"The commemorative pure gold coins were minted for our loyal supporters who appreciate the true value of our Pilsen brewery and our Pilsner Urquell premium lager. This valuable coin will remind them of the long and interesting tradition of their favourite beer," said Zdeněk Vik, Plzeňský Prazdroj Market Manager.
The commemorative coins will display a coat of arms with the Brewery Gate and the years 1842-2012, as well as an effigy of Václav Mirwald, one of the founders of Plzeň brewery. The appropriate glance and shine of the coin was secured by engaging the design skills of outstanding Czech designer, Professor Jiří Harcuba, and the honest engraving craft of Lubomír Lietava.
The gold commemorative coin, 19 mm in diameter, is made of pure gold, and each coin weighs 3.49 grams. Each coin is uniquely marked and numbered with numbers from 1 to 170. In addition to this golden edition, Plzeňský Prazdroj is also issuing 500 pieces of sterling silver coins, 34 mm in diameter, weighing 16 grams each.
Minted commemorative coins are unique in the history of Plzeňský Prazdroj, and they offer collectors of rare collectibles an opportunity to expand their private collections. The price of one golden coin is 9.500,- CZK including VAT (about 465.00 USD), and the silver coins will sold for 1.500,- CZK each including VAT (about 75.00 USD). The coins are freely available for sale. You can purchase a maximum of three coins per person in person in the Gift Shop of Plzeňský Prazdroj in Plzeň, in the Pilsner Urquell Experience Shop in Prague, U Lužického Semináře 11, or online at:
Sculptor, Profesor Jiří Harcuba, the designer of the brewery's coins, is a living legend of Czechoslovakian and Czech mint production. This exceptional personality of Czech design uses a rare, traditional method and fundamentals typical for minting art for thousands of years: unlike his colleagues, he does not sculpt the coins, and then cast them into plaster forms, but he engraves his designs directly into hardened plaster, as he does while working with glass. Harcuba is unique for his embossing and immaculate details. His speciality is his ability to capture the true visage of a depicted person but also enriching the depiction with his own, unique interpretation.
For more information:
Vladimír Jurina, Plzeňský Prazdroj, phone: +420 724 617 886
Notes for editors:

With total sales of nearly 9.9 millions hectolitres during the calendar year of 2011 (including licensed production abroad) and with exports to more than 50 countries worldwide, Plzeňský Prazdroj Inc. is the preeminent beer producer in the region and the biggest exporter of Czech beer.
Plzeňský Prazdroj Inc. is a member of SABMiller plc. group. Pilsner Urquell is the international flagship brand of the SABMiller brand portfolio.
SABMiller plc. is one of the world's biggest beer brewing companies with beer brewing activities or distribution in more than 60 countries across six continents. SABMiller portfolio includes important international Brands such as Grolsch, Miller Genuine Draft, Peroni Nastro Azzurro, and Pilsner Urquell, as well as almost 200 successful regional and national brands.
Plzeň