Pavel Konáš Of Plzeňský Prazdroj Company Is The Best Taster In Europe
30.5.2012
Uncategorized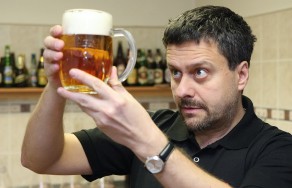 Regardless of laboratory analysis of beer parameters, tasting is irreplaceable. "Every day, before we bottle the beer or fill the kegs, we test the samples. It is important to ensure the accuracy of the laboratory data, however, tasting is a part of the brewing process since its beginnings, and a professional taster knows best if the beer tastes according to the recipe and its taste profile. Same as a chef tastes his food, we too taste our beer in all phases of the brewing process. And the phase right before tapping is the most important one," Pavel Konáš (45) said.
Besides their everyday work, tasters must also train their taste buds regularly. That is why every two months they receive a delivery of two packets of capsules with different flavours. The capsules are number–marked only. They are then dissolved in one litre of beer, and the taster must use only his skills to identify each individual flavor. This way, tasters learn to identify flavours that are not appropriate in beer, and thus to know what to eliminate during tastings. In a course of a year, tasters learn to identify a total of 28 flavours.
The Taster Of The Year is selected based on blind tastings once a year. Two hundred tasters, from 21 breweries of SABMiller** Group Europe, take part in this regular survey of their tasting skills.
The training must be accompanied by correct maintenance and care of taste buds. "I do not smoke, I do not drink coffee. Smoking is bad for tasting in general, coffee especially before the tasting. It decreases the ability to sense some of the flavours. I also do not eat some hot and spicy foods, regardless of my passion for it. I can have my hot kielbasa or spicy Chinese after the tasting," Pavel Konáš confessed.
The current best European taster is originally from Pilsen. He graduated from the Vocational School of Food and Nutrition and started to work for Plzeňský Prazdroj in 1986 when he joined the production department. Later he became a foreman in the bottling plant, then a filtration line operator, and later worked as a technician in the department of fermentation and maturation of beer. He has worked in the quality assurance department since 2002.
*These are substances commonly found in nature, however, while preset in beer, they could potentially decrease its quality. This could happen if some of the brewing processes are not accurately carried out, or because of incorrect storing practises. In some beers, these elements are present in minimal numbers or are totally suppressed, while in others, the higher number of esters, for example, causes beer to achieve its typical and popular taste so characteristic of a brand.
**SABMiller breweries employ their tasters at many levels. A basic level taster must recognise 10 flavours. An advanced level taster must be able to decipher an additional 28 flavours. Even higher qualified is a taster who passes all validations. Plzeňský Prazdroj currently employs 34 validated tasters (13 in Plzeň, 11 in Nošovice, and 10 in Velké Popovice).
Notes for editors:
With total sales of nearly 9.9 million hectolitres during the calendar year of 2011 (including licensed productions abroad) and with exports to more than 50 countries worldwide, Plzeňský Prazdroj Inc. is the preeminent beer producer in the region and the biggest exporter of Czech beer.
Plzeňský Prazdroj Inc. is a member of the SABMiller plc. group. Pilsner Urquell is the international flagship brand of the SABMiller brand portfolio.
SABMiller plc. is one of the world's biggest beer brewing companies, with beer brewing activities or distribution in more than 60 countries across six continents. The SABMiller portfolio includes important international brands such as Grolsch, Miller Genuine Draft, Peroni Nastro Azzurro, and Pilsner Urquell, as well as almost 200 successful regional and national brands.

Contact:
Jiří Mareček
Manager external communication
Phone: +420 724 617 219
Plzeň