Beer Brewing Museum Presents the Distinctive Humour of Jiří Winter Neprakta
6.6.2012
Company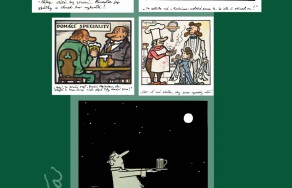 The historic roller–house of the Beer Brewing Museum in Pilsen will be taken over by a selection of works by one of the foremost Czech humourists, caricaturists, illustrators and artists of the 20th century Jiří Winter Neprakta (1924–2011). The artworks, inspired by pub culture and restaurant hospitality, were created during the period between 1963 and 1983. The total output of the legendary Czech humourist is more than 35,000 cartoons and works of art.
"By displaying Jiří Winter Neprakta's artwork, we salute this significant personality of postwar illustrated humour. In his illustrations, this famous Czech humourist depicted typical Czech pub culture and presented a typical Czech beer lover and his "customs" with light, sarcastic wit. That is why these illustration fit perfectly in our Beer Brewing Museum, and we certainly do hope that they will make one's visit to our permanent exhibition even more pleasurable," said Jindřiška Eliášková, Manager of Tourism and Historic Heritage.
The exhibition of illustrations is accompanied by artefacts from Jiří Winter Neprakta's daily life. Besides the tools connected with his daily artistic activities, such as a pen or a brush, there are many interesting artefacts from his personal life: pictures from his childhood, a samurai sword and his beloved turtle and crystal skulls to name a few. A touch-screen will be a part of the interactive exhibition, enabling visitors to remember other humourous illustrations by this legend of Czech humour.
Notes for editors:

Activities at Plzeňský Prazdroj for visitors to Pilsen include the Visitor Centre, guided tours of Pilsner Urquell and Gambrinus breweries, the Beer Brewing Museum and Plzeň Historic Underground in the town's centre.
Visitors can find inspiration for a visit to the brewery at www.prazdrojvisit.cz, which is dedicated to visitors' tours and all other services offered by the brewery.
Besides Czech, English, and German, visitors can enjoy the tours in French, Chinese, and Russian.
The conference and convention centre Secese is available for private and company celebrations, as well as cultural, educational and formal events.
The Beer Brewing Museum in Pilsen is located in an original beer brewing house on Veleslavínova Street, preserved in its authentic, original state. The museum opened in 1959 as part of the celebration of the 100th. anniversary of the registration of the trade mark Pilsen Beer.
An 800–yard long tour of the Pilsen Historic Underground is accessible from the main building of the Beer Brewing Museum. The labyrinth of hallways, cellars, and wells has been under the town of Pilsen since the 14 th.century, and is inseparably connected with the history of the town.
In 2001, 252,210 visitors from all around the world visited our Pilsner Urquell and Gambrinus tours, the Beer Brewing Museum, and the Historic Underground. The brewery itself is a part of one of the most attractive tourist destinations in the Czech Republic.
The Department of Tourism and Care of Historic Heritage of Plzeňský Prazdroj also manages visitors tours, tourism and the sale of souvenirs in Velké Popovice and Radegast breweries. In 2011, a total of nearly 300,000 visitors were welcomed at all tourist destinations and points of interest managed by Plzeňský Prazdroj.

Contact:
Jiří Mareček
Plzeňský Prazdroj
+420 724 617 219
Plzeň