Olympic Contract For Fans
10.7.2012
Pilsner Urquell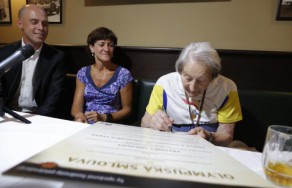 The Olympic Contract is a reminder of true Olympic values such as respect for the opponent, the value of all Olympic performances, keeping to the rules and fair–play. "These rules are easily forgotten not only in sports but in real life as well these days. That is why we in Fair–play Club, as part of the Czech Olympic Delegation, search for and praise the true approach to sports and life," Vice-chairwoman of Czech Club of Fair Play Květa Jeriová–Pecková said, calling for more signatures of the Olympic Contract at www.spravnehodnoty.cz.
Everyone who signs the contract on the website will also support Dana and Emil Zátopek Fund. "We thank everyone who stands for the true values shared by all of us with the Olympic movement. Together we will support a good cause," Pilsner Urquell Brand Manager Jan Šolta explained.
"Signing the Contract is a symbolic gesture for fans of the Czech Olympic team. It should primarily make them aware of the true Olympian values," Šolta added. With their signatures, fans promise to support all sportsman. They will praise each performance even if the athlete does not reach his highest achievement because participation at Olympic Games itself is a great honour already. They also promise to celebrate Czech medals. "We will keep an eye on this part of the contract in restaurants where we invite the fans to celebrate with beer," Šolta added with a smile. In the case of each Czech medal won, there will be celebrations prepared for fans in 300 restaurants around the entire Czech Republic, during which barkeepers will crack open kegs of Pilsen beer.
For more information contact:
Vladimír Jurina, Plzeňský Prazdroj,
e-mail: ,
phone: +420 724 617 886
Notes for editors:
With total sales of nearly 9.9 millions hectolitres during the calendar year of 2011 (including licensed productions abroad) and with exports to more than 50 countries worldwide, Plzeňský Prazdroj Inc. is the preeminent beer producer in the region and the biggest exporter of Czech beer.
Plzeňský Prazdroj Inc. is a member of SABMiller plc. group. Pilsner Urquell is the international flagship brand of the SABMiller brand portfolio.
SABMiller plc. is one of the world's biggest beer brewing companies with brewing activities or distribution in more than 60 countries across six continents. The SABMiller portfolio includes important international Brands such as Grolsch, Miller Genuine Draft), Peroni Nastro Azzurro, and Pilsner Urquell, as well as almost 200 successful regional and national brands.
Praha