Guaranteed batch of beer for Pilsner fest fans was prepared by Pavel Nový and Matěj Ruppert
17.7.2012
Pilsner Urquell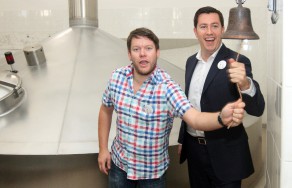 The gates to both of Plzeňský Prazdroj's breweries traditionally open during the last weekend of August to all fun-time fans and most of all to all loyal consumers of Pilsner Urquell and Gambrinus. The guests of honour, Pavel Nový and Matěj Ruppert, came together just for this occasion so they could brew, together with Grant McKenzie and Pilsen's master–brewer Václav Berka, the special batches of Pilsner Urquell and Gambrinus beers – the main beers of the traditional and popular festival that is visited by thousands of people every year.
First of all, the participants of both brewing processes marked the end of the Gambrinus brewing process by ringing a bell. The popular musician Matěj Ruppert, known for his extremely positive attitude towards Pilsen beers, assumed the role of batch patron. "All of us in the band are good friends and beer is one of the common things we all enjoy, even outside of work. The times spent together at the country house where we often go to is unthinkable to us without Pilsen beer," Matěj Ruppert of Monkey Business and G–Point Hunters band said and added, "I wish the same pleasant moments with beer to all guests of this year's Pilsner Fest."
Pilsen native Pavel Nový, a popular actor and representative of charitable organization Centre Umbrella, who has been cooperating with Plzeňský Prazdroj for a long time assumed the role of master brewer, and, after a short opening speech of Václav Berka, started a new batch for Pilsner Fest in the brewery's brewing house. "I guarantee to all fans of Pilsner Urquell beer that this beer, prepared under our watchful eyes, will be as excellent as all beer originating in this brewing house," actor Pavel Nový said, smiling.
The beer was brewed according to a tradition preserved in the brewery since the times of the first master brewer. "For 170 years now, we honour this tradition, and I believe that Pilsner Fest fans too will celebrate with us this special occasion," Grant McKenzie, Marketing Director of Plzeňský Prazdroj, invited all present to this year's Pilsen Fest.
For more information contact:
Vladimír Jurina
Plzeňský Prazdroj
p: +420 724 617 886
Notes for editors:
Plzeňský Prazdroj Inc. and the Town of Plzeň are long time partners in the field of marketing cooperation in tourism. Founded on the Declaration of Mutual Cooperation, Plzeňský Prazdroj Inc. supports many cultural events in Pilsen, and the Town of Plzeň is a traditional co-organiser of Pilsner Fest.
With its total sale of nearly 9.9 million hectolitres during the calendar year of 2011 (including licensed productions abroad) and with its export to more than 50 countries worldwide, Plzeňský Prazdroj Inc. is the preeminent beer producer in the region and the biggest exporter of Czech beer.
Plzeňský Prazdroj Inc. is a member of SABMiller plc. group. Pilsner Urquell is the international flagship brand of the SABMiller brand portfolio.
SABMiller plc. is one of the world's biggest beer brewing companies, with beer brewing activities or distribution in more than 60 countries across six continents. The SABMiller portfolio includes important international brands such as Grolsch, Miller Genuine Draft, Peroni Nastro Azzurro, and Pilsner Urquell, as well as almost 200 successful regional and national brands.
Plzeň