The New Visitors' Tour in Popovice Reports a Record Number of Visitors: Twenty Thousand People
9.8.2012
Velkopopovický kozel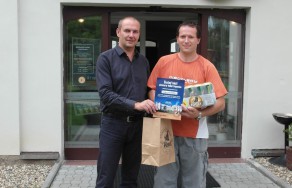 "Regardless of the increase in number of visitors over the last few years, the national spectrum of visitors is almost unchanged. Czechs make up 57% of visitors and more than 40% visitors come from abroad. The most foreigners come from Russian Federation where Velkopopovický Kozel beer is very popular," Karel Kraus, Marketing Manager of Plzeňský Prazdroj explains. Tourists from Germany, Great Brittan, Hungary, North countries, or even exotic places such as Australia or New Zealand periodically visit the brewery as well.

Domestic visitors come mostly from central Bohemia, and they do enjoy individual visits the most. Another category of visitors is made of cyclists who find Velké Popovice to be an ideal and popular trip tip. More than 83% of people interested in visitors' tours come to the brewery in groups.
The jubilee visitor is Martin Kussior who spends his summer vacation near Popovice, and who visited the brewery with his family.  "During the tour, I mostly enjoyed the technologically advanced bottling plant as well as the information regarding materials and the overall production of Velké Popovice beer. I must admit, I have learned so much about the beer and my next meeting with Kozel will reflect my newly gained knowledge," the jubilee visitor shared of his experience from the brewery visit after he received a small gift from brewery representatives.
Velké Popovice brewery works very hard on making its visitors' tour as attractive as possible. That is why it is so successful in presenting its visitors with interesting novelties. This year, the brewery expanded the trail "In the Footstep of Kozel" with a 40-metre long tunnel leading from lager cellars into the bottling house. They installed a new exposition in the historic brewing house built in 1928. The visitors will then have a chance to taste Velké Popovice beer from a unique bar in authentic environment of lager cellars.
The soul and a rarity of the brewery is a live mascot, billy-goat Olda, which is a natural part of brewery's park, and which is present at a number of ceremonial, and other important events of the brewery. The first billy-goat came to the brewery from Uzhgorod in 1939; the name Olda was bestowed upon him by his first caretaker, and all of Olda's followers are named after him.
Visitors can buy souvenirs with billy–goat motifs in Billy-goat Shop located in Visitor Center, or online in the e-shop. Another attraction for visitors of the brewery is "Little Billy-goat's Conference Room," an outdoor area for various events, and pub Kozlovna that opened in the brewery in 2010.
"For the faithful followers of the beer, Velkopopovický Kozel constantly prepares interesting events offering the visitors a chance to learn a lot of interesting information about the popular brand, and to spend a pleasant day in the brewery. For example, this Saturday, lovers of Velké Popovice beer and great food may come to enjoy our barbeque in the brewery,"Tomáš Raboch, Director of Tourist Services mentioned.
Barbeque in the brewery will take place on August 11, at 6:00 pm. There will be no shortage of Velkopopovický Kozel 11°, and in the afternoon, the visitors will enjoy live music and billy–goat's funny challenges. Those who want to visit the new visitors' trail of the local brewery should expect tasting of the honest Velkopopovický Kozel beer in its unfiltered form directly in lager cellars.
More information:
Jiří Mareček
Manager external communication
phone: +420 724 617 219
Notes for editors:
The first batch of beer was brewed in Velké Popovice brewery on December 15, 1874. Just a year later, more than 18,000 hl of beer were brewed and sold. Only after few years, the brewery became the third biggest brewery in the country known especially for its potent, dark beers.

Velkopopovický Kozel is a brand with an irreplaceable position on the beer market. It is one of the brands with most dynamic development on domestic and international markets. Velkopopovický Kozel Dark is the leader among dark beers on Czech market, and the most sold Czech beer brand abroad overall.

Velké Popovice brewery is a part of Plzeňský Prazdroj Groups since 1999.

With its total sale of nearly 9.9 million hectolitres during the calendar year of 2011 (including licenced productions abroad) and with its export to more than 50 countries worldwide, Plzeňský Prazdroj Inc. is the preeminent beer producer in the region and the biggest exporter of the Czech beer.

Plzeňský Prazdroj Inc. is a member of SABMiller plc. group. Pilsner Urquell is the international flagship brand of the SABMiller brand portfolio.

SABMiller plc. is one of the world's biggest beer brewing companies with beer brewing activities or distribution in more than 60 countries across six continents. SABMiller portfolio includes important international Brands such as Grolsch, Miller Genuine Draft, Peroni Nastro Azzurro, and Pilsner Urquell, as well as almost 200 successful regional and national brands.

You can find most recent information about activities and projects supported by Velkopopovický Kozel at www.kozel.cz.
Praha