Gambrinus Is Introducing the New Beer for Playing Fields, GOAL
16.8.2012
Gambrinus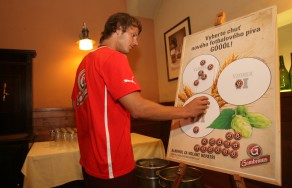 As so many times in the past, Gambrinus has welcomed the challenge and brewed great tasting beer that will be available at sports fields. For the creation of the new Gambrinus GOAL beer, they facilitated rich beer brewing knowledge, traditional brewing procedures, and Czech raw materials, including renowned Saaz hops. As is the case of all members of the Gambrinus beer family, it is Czech beer that originated in Pilsen and so it will be protected by the geographical trademark "Czech Beer."
The public played a major role in the preparation of the new beer. "Gambrinus likes to include fans in all its activities. Therefore, it was only natural that we have called upon them to help us to select the taste of the new beer under the guidance of experienced master brewers. As soon as we have created a truly unique and well–balanced beer, we have focused on the name. Who else should pick the name than the fans and players themselves? They are the true experts," Adriana Jahňáková, Marketing Manager of Plzeňský Prazdroj said.
Public representatives from Pilsen chose from three varieties prepared by Pilsen brew-masters that were deemed appropriate to be parts of the Gambrinus beer family based on their characteristics and taste profile. The winning variety was chosen based on its higher bitterness and pleasant Saaz hops aroma.
The most important step in the birth of the new beer was finding the right, original name. The ten most successful ideas came from a Facebook posting. The National Team players picked the winning name from those. Gambrinus "Góóól" (goal), the simple and clear name defining the beer for sports fields was the most convincing to the brewery representatives.
The new Gambrinus "Góóól" beer will be distributed to soccer stadiums on August 17. It will be available on taps only, and the price of the new beer will be the same as the price of Gambrinus beer sold at the stadiums so far.
Notes for editors:
The wide portfolio of Gambrinus brand consists of Gambrinus Original 10°, Gambrinus 11° Excellent, Gambrinus Premium light lager, and Gambrinus Dry with low content of sugar.
Since 2012, Gambrinus has added Gambrinus Crisp Lemon, and Gambrinus Lime & Elderberry products to its portfolio. These are mixed beer drinks. They are typical for lower alcohol content and refreshing taste.
Thanks to following the original brewing recipes typical for Czech beer, and also thanks to the use of traditional Czech beer brewing materials, Gambrinus is entitled to use the quality trademark "Czech Beer."  

The history of Gambrinus brand goes way back to 1869. Gambrinus is beer that won the hearts and minds of its consumers thanks to its high quality and preserving of original brewing procedures.
Gambrinus is part of Plzeňský Prazdroj Inc. portfolio.  PP is member of SABMiller plc. With its total sale of nearly 9.9 million hectolitres during the calendar year of 2011 (including licenced productions abroad) and with its export to more than 50 countries worldwide, Plzeňský Prazdroj Inc. is the preeminent beer producer in the region and the biggest exporter of the Czech beer.
SABMiller plc. is one of the world's biggest beer brewing companies with beer brewing activities or distribution in more than 60 countries across six continents. SABMiller portfolio includes important international Brands such as Grolsch, Miller Genuine Draft, Peroni Nastro Azzurro, and Pilsner Urquell, as well as almost 200 successful regional and national brands.

Contact:
Jiří Mareček
Press contact
Plzeňský Prazdroj, Inc.    
Phone: +420 724 617 219
Email:
Plzeň