Pilsner Urquell Tested Wooden Barrels Designed for the October Celebration of its 170th Anniversary
23.8.2012
Pilsner Urquell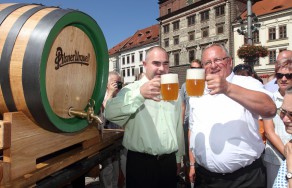 The several-days long seal test of the 170 litre barrels made by brewery coopers specifically for the October celebration of the 170th anniversary of Pilsner Urquell's creation took place in the brewery's cellars. The practical tests concluded today with the ceremonial opening and drafting of the beer on the Square of the Republic. Same as it was 170 years ago, the barrels were loaded on a horse-drawn wagon in the brewery and transported to the Square of the Republic, where master brewer Václav Berka opened one of the barrels and began draughting. So concluded the test of the ceremonial procedure, which must happen flawlessly during the celebration.
"This year's celebration of our lager, Pilsner Urquell, is a unique event and we do not want to underestimate anything. That is why we are testing every important step, from loading to transporting, to the opening of the barrels, and the drafting of the beer. Today, we have also shared our Pilsner Urquell lager with Pilseners who thus had a chance to get a taste of the upcoming October celebration," Václav Berka, Senior Marketing Brew Master of Plzeňský Prazdroj said.
The main celebration of the anniversary of Pilsner Urquell lager and the founding of Plzeňský Prazdroj will take place on Friday, October 5, at 6:00 pm on the Republic Square in Pilsen, Czech Republic, at exactly the same place where the dress rehearsal took place today. Those visiting the celebration can look forward to the still–undisclosed rich cultural programme, and to tasting unfiltered Pilsner Urquell lager directly from wooden barrels.
For more information contact:
Vladimír Jurina
Plzeňský Prazdroj
p: +420 724 617 886
Notes for editors:
With its total sale of nearly 9.9 million hectolitres during the year 2011 (including licenced productions abroad) and with its export to more than 50 countries worldwide, Plzeňský Prazdroj Inc. is the preeminent beer producer in the region and the biggest exporter of Czech beer.

Plzeňský Prazdroj Inc. is a member of the SABMiller plc. group. Pilsner Urquell is the international flagship brand of the SABMiller brand portfolio.

SABMiller plc. is one of the world's biggest beer brewing companies, with beer brewing activities or distribution in more than 60 countries across six continents. The SABMiller portfolio includes important international brands such as Grolsch, Miller Genuine Draft, Peroni Nastro Azzurro, and Pilsner Urquell, as well as almost 200 successful  regional and national brands.
Plzeň