The new project of Plzeňský Prazdroj will conserve electric energy
15.10.2012
Company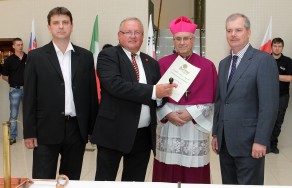 Beer brewing is an energy–demanding business. Especially when using the technology needed for the production of Czech beer through processes such as mashing, or separated fermentation and maturation. This innovation brings major conservation of electric energy while preserving traditional beer brewing processes. Moreover, the brewery is therefore once again kinder towards the environment.
"Effective and economical use of natural resources is one of the strategic priorities of our advancement towards sustainable development. It is important to us to make sure that our decision to satisfy today's demands including energy consumption does not affect the options of the future generations to satisfy their own demands. That is why we invest into projects such as this one," Director of Corporate Relations and Communications Drahomíra Mandíková explained the big picture behind the project.
Conserved energy of about 257 000 kWh per year equals the energy consumption of 37 average family homes,* or it could also meet the energy requirements for lighting more than 400 soccer matches at a major modern soccer stadium, such as Slavia SC Stadium in Eden in Prague.**
*Average yearly energy consumption of such a household is 7 000 kWh.
**Power requirement of the Soccer Stadium Slavia in Eden, Prague (seats 21 000 viewers) is about 300 kWh. Lighting of one soccer match requires 600 kWh. Energy saved by Prazdroj would then light more than 400 soccer matches at the major modern stadium.
Notes for editors:
With its total sale of nearly 9.9 million hectolitres during the calendar year of 2011 (including licenced productions abroad) and with its export to more than 50 countries worldwide, Plzeňský Prazdroj Inc. is the preeminent beer producer in the region and the biggest exporter of the Czech beer.
Plzeňský Prazdroj Inc. is the member of SABMiller plc. group. Pilsner Urquell is the international flagship brand of the SABMiller brand portfolio.
SABMiller plc. is one of the world's biggest beer brewing companies with beer brewing activities or distribution in more than 60 countries across six continents. SABMiller portfolio includes important international Brands such as Grolsch, Miller Genuine Draft, Peroni Nastro Azzurro, and Pilsner Urquell, as well as almost 200 successful regional and national brands.
Contact:
Jiří Mareček
Plzeňský Prazdroj
+420 724 617 219
Plzeň