Karel Loprais and Libor Uher Planting Trees in Beskydy Mountains
16.11.2012
Company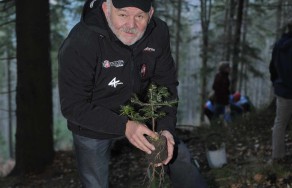 Equipped with a hoe and seedlings, Karel Loprais, six-time winner of the Rallye Dakar truck race, departed for the difficult Beskydy terrain as well. "It is our duty to preserve the beautiful nature of our beloved Beskydy Mountains. We must appreciate having it here. I did not think a minute about doing this, and immediately took off to plant some trees."Alpinist Libor Uher also participated in the project together with Karlem Loprais, Moravia-Silesia Region Governor Deputy Daniel Havlík, Member of Parliament Kateřina Konečná and Senator Eva Richtrová.
It was Radegast who invited some of the important personalities of the North Moravia region to plant trees. "We were very pleased to see that our request to help Beskydy Mountains did not go unanswered, and we were able to create a group of more than 20 people. The money is important; however, in this case we needed some work to be done that required a trip to a hard terrain and the use of one's own muscles. I am sure all of our participants were very happy they did this," Radegast brand marketing manager Karel Kraus said.
They planted dozens of trees started under special conditions in the area of the first zone of the Natural Preserve Beskydy. CANP Salamander will plant other trees thanks to Radegast support. "This year, we plan to plant trees on three mountains: Smrk, Travn and  Lysa. Our effort is to recover the original composition of the woods in the rare parts of Beskydy that were changed by forestry in the past and that resulted in elimination of some of the original trees," Vojtěch Bajer, chairman of the association said, and added that the structure of Beskydy woods was drastically changed during the past two centuries. Spruces replaced fir and oak tree woods. The original species of trees were thus reduced by 63%.
Notes for editors:
One of the most modern Czech breweries, Radegast has produced beer since 1970.
Radegast brewery is a part of Plzeňský Prazdroj Co. since 1999.
With its total sale of nearly 9.9 million hectolitres during the calendar year of 2011 (including licensed productions abroad) and with exports to more than 50 countries worldwide, Plzeňský Prazdroj Inc. is the preeminent beer producer in the region and the biggest exporter of Czech beer.
Plzeňský Prazdroj Inc. is a member of SABMiller plc. group. Pilsner Urquell is the international flagship brand of the SABMiller brand portfolio.
SABMiller plc. is one of the world's biggest beer brewing companies with beer brewing activities or distribution in more than 60 countries across six continents. The SABMiller portfolio includes important international brands such as Grolsch, Miller Genuine Draft, Peroni Nastro Azzurro, and Pilsner Urquell, as well as almost 200 successful regional and national brands.

Contact:
Jiří Mareček
Press contact
Phone: +420 724 617 219
Tel.: 724 617 219
Nošovice