Baník Coach Is Facing Evening Shift Behind the Bar
29.3.2013
Radegast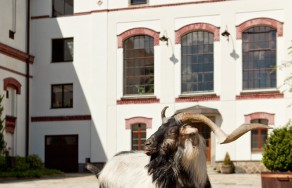 Martina Pulpit's goal is thus very clear. During the remaining ten matches, Baník must earn at least 14 points. "It is not an easy task since we have very difficult matches ahead of us. On the other hand, we are playing 6 times at home, and so I believe that the sold out Bazaly (the name of Baník's home stadium) will drive us to get those important points." Coach of the Baník players, Martin Pulpit, puts his hopes in power of their fans.
Less than 14 points means a clear task for him. After the season is over, he must take to a selected pub, get behind the bar, draw beer, and serve it to the fans. The coach made it clear that he will personally select a few members of the A team who will help him with the lost bet.
If the coach succeeds, a representative of Radegast Martin Troup faces a tough task himself. He must take to the team's cabins for general cleaning. "In case Baník winnings and making our fans happy then the players and the whole team deserve to be entertained by watching me cleaning the cabins," Martin Troup said.

Notes for editors:
One of the most modern Czech breweries Radegast produces beer since 1970. Radegast brewery is a part of Plzeňský Prazdroj comp. since 1999.
With its total sale of nearly 9.9 million of hectoliters during the calendar year of 2011 (including licensed productions abroad) and with its export to more than 50 countries worldwide, Plzeňský Prazdroj Inc. is the preeminent beer producer in the region and the biggest exporter of the Czech beer.
Plzeňský Prazdroj Inc. is the member of SABMiller plc. group. Pilsner Urquell is the international flagship brand of the SABMiller brand portfolio
SABMiller plc. is one of the world's biggest beer brewing companies with beer brewing activities or distribution in more than 60 countries across six continents. SABMiller portfolio includes important international Brands such as Grolsch, Miller Genuine Draft (draught) (draught), Peroni Nastro Azzurro, and Pilsner Urquell, as well as almost 200 successful regional and national brands.

Contact:
Vladimír Jurina
Plzeňský Prazdroj
+420 724 617 886
Ostrava