Birell Lemon & Pomegranate: Fresh Air for the Nonalcoholic Beer Market
2.5.2013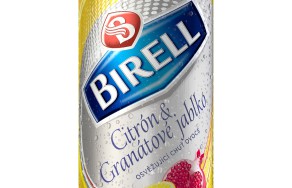 Nonalcoholic beer makes up about 3% of Czech beer market. The experiences from other European countries show that this share could double in the next two years as it did, for example, in Spain.
The marketing director of Plzeňský Prazdroj, Grant McKenzie, sees the opportunity for further development of the nonalcoholic beer segment especially in further expansion of the flavoured beer varieties, and in the art of presenting these products for consumption. "The Czech nonalcoholic beer market has grown dramatically, however, now we do need a breath of fresh air. We are convinced that if we offer the right varieties the right way to adult consumers seeking healthy, active lifestyles for their favourite activities, such as cycling, inline skating, hiking, or business lunches, the consumption of nonalcoholic beer will grow."
Plzeňský Prazdroj will bet on the Czech population, who tested the popular brand Birell. "Birell has an ideal flavour portfolio on the nonalcoholic beer market, Birell Light, which has won its success thanks to its pure beer taste given by its unique variety. We have also added Birell Semi-dark with hints of caramel. Last year, we successfully introduced to the market our first mixed, nonalcoholic beer drink, Birell Lime & Raspberry, and just a few days ago the consumers had a chance, for the first time, to taste the variety with a unique flavour: Birell Lemon & Pomegranate. With this portfolio, Birell is able to satisfy taste preferences of the majority of adult consumers, and it can be paired as a suitable beverage with all sorts of foods," Grant McKenzie explains.
Birell's unique brewing procedure is the valued aspect of the brand. They use special beer yeasts for both phases – fermentation and after fermentation – the same as for the classic Czech beer. Birell thus gains its pure beer taste while preserving its minimal level of alcohol. As with Plzeňský Prazdroj, none of the Birell varieties contain artificial sweeteners and preservatives.
During the summer months, advertising activities leaning on the new, fresh design will target all market segments and places where there is a good opportunity to attract adult consumers who seek an active lifestyle. The plan counts on the distribution of 250,000 cans of beer during these activities. For the first time in history the brand will advertise, via TV, a spot that is available for consumers to see today.

Notes for editors:

Birell brand is a longtime leader of the entire category of nonalcoholic beers. It is present on Czech beer market for more than 20 years.
The portfolio includes Birell Light, Birell Semi dark, and Birell Lime & Raspberry, which was introduced to the market in the summer of 2012.
The perfect beer taste of Birell is appreciated not only by its consumers but also at international competitions. Its last success is World Beer Awards 2012.
With its total sale of nearly 9.9 million of hectoliters during the calendar year of 2012 (including licensed productions abroad) and with its export to more than 50 countries worldwide, Plzeňský Prazdroj Inc. is the preeminent beer producer in the region and the biggest exporter of the Czech beer.
Plzeňský Prazdroj Inc. is the member of SABMiller plc. Group. Pilsner Urquell is the international flagship brand of the SABMiller brand portfolio.
SABMiller plc. is one of the world's biggest beer brewing companies with beer brewing activities or distribution in more than 60 countries across six continents. SABMiller portfolio includes important international Brands such as Grolsch, Miller Genuine Draft, Peroni Nastro Azzurro, and Pilsner Urquell, as well as almost 200 successful regional and national brands.

Contact:
Vladimír Jurina
Manager of Corporate Relations and Communication
Plzeňský Prazdroj, Inc.
Phone: +420 724 617 886
E-mail:
Praha