Radegast Was One of the Stars of This Year's 'Colours'
24.7.2013
Radegast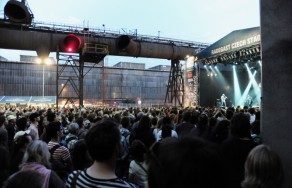 "An excellent programme, beautiful weather, plus the wide selection of beer, higher number of beer stations, and high quality service are the main reasons behind the record number of beers served at this year's Colours. This summer's novelty Radegast Summer Stein, which fell right into the colourful atmosphere of this year's festival, has enjoyed especially high attention," said Karel Kraus,marketing manager of Radegast brand.
The most served beer was Radegast Original – 128.678 half-litres, followed by Radegast Premium, and the seasonal novelty Radegast Summer Stein. The beer was available at 250 stations from 122 taps, not only from barrels but from 4 trucks with 30 beer tanks. 20 brewery specialists took care of flawless service and the never ending supply of beer.
Parts of the accompanying programme were the entertainment zone Radegast Adrenalin Park, and the relaxing zone KLEE-DECK where visitors had an opportunity to relax and learn more about the responsible consumption of alcohol.
"Radegast deservingly became another star of the festival. Visitors especially praised the never ending supply of beer stations and wide selection of beer. Typical Radegast Pub, a practical beer map, and clearly marked beer selection on the stations were greatly appreciated," said festival press contact Jiří Sedlák.
60 foreign bands, from 29 countries, and 46 Czech bands played at the festival. Under the watchful eye of the Radegast god, The Plastic People of the Universe, Umakart, and Květy, among the others, played on the Radegast Czech stage for four days. The festival offered not only music but theatre, films, discussions and workshops.
Notes for editors:
One of the most modern Czech breweries Radegast produces beer since 1970. Radegast brewery is a part of Plzeňský Prazdroj comp. since 1999.
With its total sale of nearly 9.9 million of hectoliters during the calendar year of 2012 (including licensed productions abroad) and with its export to more than 50 countries worldwide, Plzeňský Prazdroj Inc. is the preeminent beer producer in the region and the biggest exporter of the Czech beer.
Plzeňský Prazdroj Inc. is the member of SABMiller plc. group. Pilsner Urquell is the international flagship brand of the SABMiller brand portfolio
SABMiller plc. is one of the world's biggest beer brewing companies with 75,000 thousand employees and beer brewing activities or distribution in more than 75 countries across six continents. SABMiller portfolio includes important international Brands such as Grolsch, Miller Genuine Draft (draught), Peroni Nastro Azzurro, and Pilsner Urquell, as well as almost 200 successful regional and national brands such as Aguila (Colombia), Castle (South Africa), Miller Lite (USA), Snow (China), Victoria Bitter (Australia), and Tyskie (Poland).

Contact:
Vladimír Jurina
Plzeňský Prazdroj
+420 724 617 886
Nošovice