Prazdroj celebrates "Day of Czech beer"
26.9.2013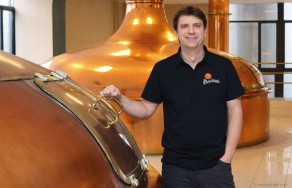 Day of Czech Beer, initiated by the Czech Association of Beer Breweries and Malt Houses, should become a national celebration of Czech beer and strengthen the pride of this traditional beverage. In a historic context, the feast reminds us of St. Wenceslas, the patron of all beer brewers and therefore it will happen on the eve of his feast day. Day of Czech Beer will also bring fun education that will enlighten people about the history and traditions of Czech beer making and it will also display its uniqueness and its interesting fusion with gastronomy and our culture.
"We support Czech beer and the unique Czech beer culture and therefore we gladly support Day of Czech Beer, which will surely enrich the colourful culture of tap beer right in restaurants and pubs. We are convinced that thus we will contribute to a creation of a unique tradition for all beer lovers in Czech lands," said Jiří Fusek, malt master of Pilsen brewery.
By tapping a beer barrel at the restaurant Dvanáctka ("The 12") just a few minutes after noon on the Day of Czech Beer, Jiří Fusek will start the celebration for the Plzeňský Prazdroj. Special offers are being prepared in restaurants and pubs that are taking part in the national celebration. Beside the freshly tapped delicious beverage, Guests will have a chance to enjoy the special feast menu, a beer tasting menu with tasting of nontraditional beer and specials, free beer, and in some of the pubs also meet the Pilsen malt-master. In selected pubs and restaurants, guests will have a chance to taste brands that are usually unavailable from taps.
The list of pubs with Plzeňský Prazdroj on taps that are celebrating the feast in individual regions of Czech Republic is available at www.prazdroj.cz/cz/obchody-a-restaurace/pro-pivare/den-ceskeho-piva.
As Jiří Fusek added that the Day of Czech Beer is not the only opportunity to enjoy delicious tap beer this fall: "The fans and patriots of this national liquid treasure may continue the celebrations in Pilsen in October. On October 5, we are inviting everybody to join us at Pilsner Fest, the festival to celebrate the 171stanniversary of the first batch of Pilsner Urquell, the founding father of bottom-fermented beers which are now common all around the world as a pils (pilsner) beer category."

Notes for editors:
With its total sale of nearly 9.9 million hectolitres during the calendar year of 2012 (including licenced productions abroad) and with its export to more than 50 countries worldwide, Plzeňský Prazdroj Inc. is the preeminent beer producer in the region and the biggest exporter of the Czech beer.
Plzeňský Prazdroj Inc. is a member of SABMiller plc. group. Pilsner Urquell is the international flagship brand of the SABMiller brand portfolio.
SABMiller plc is one of the most significant world beer companies with 70 thousand employees in 75 countries around the world. It offers more than 200 beer brands including the world renowned brand such as Pilsner Urquell, Peroni Nastro Azzurro, Miller Genuine Draft a Grolsch, as well as important local brands such as Aguila (Columbia), Castle (South Africa), Miller Lite (USA), Snow (China), Victoria Bitter (Australia), and Tyskie (Poland).

The new Plzeňský Prazdroj press contact Kateřina Krásová is available to media at:
Mobile: +420 724 617 219

Plzeňský Prazdroj in social media:
Twitter twitter.com/Prazdroj1
LinkedIN www.linkedin.com/company/plzensky-prazdroj
Youtube www.youtube.com/user/PlzenskyPrazdroj1
Plzeň