Refundable Cups: "Pilsner Fest's" Contribution to the Environment
14.10.2013
Company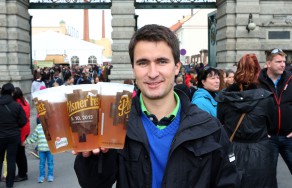 Pilsner Fest, which took place on the exact the anniversary of the brewing of the first batch of Pilsner Urquell, marked a record participation with more than 45,00 people who consumed more than 83,000 half-litre servings of beer. The same number of single-use cups would have meant nearly a ton of plastic garbage. The organisers avoided this by introducing an essential novelty – reusable, refundable cups that will be washed and reused. If single-used cups had been used and fans of Pilsen beer had made a famous "chimney" out of them, it would have reached a height of more than 500 metres.
"These cups are made of high quality plastic, they are durable and have a practical handle that enables one to carry more than one cup at once. Thanks to a retro-logo imprinted on them, the visitors took nearly 5000 of these cups home with them as souvenirs or collectible items," said Vladimír Jurina of Plzeňský Prazdroj. The visitors paid a refundable fee of 50,- CZK (about 1.50 USD) during their first beer purchase, and then just exchanged their used cup for a clean one during all subsequent buys. When leaving, they either exchanged their cups for a refund or a brand new, clean cup with the logo of Pilsner Fest 2013.
The ecological cups were not the only contribution to the responsible behaviour of the Plzeňský Prazdroj Company during this year's celebrations. Last year, Plzeňský Prazdroj Corp., as a responsible producer of alcoholic beverages in cooperation with the association SANANIM, developed a calm zone K-lee-deck. This zone is a unique project that offers festival visitors a place to rest and to talk with experts about the responsible consumption of alcoholic beverages. It also offers breathalyzer tests for alcohol so visitors can find out if and when they are fit to drive again. During Pilsner Fest, 135 breath tests took place using a calibrated tester and 300 interested installed the free app Promile INFO, which is a smart calculator that computes the time needed to break down the alcohol before sitting behind the wheel again. Visitors were further interested in basic rules for responsible alcohol consumption and how alcohol affects the human body. There were many myths discussed during the debates, such as how to speed up the alcohol break down with more food or coffee. There were more responsible consumers of alcohol compared to previous years.
"We meet people we know and they bring with them their friends and relatives. The whole concept of our calm zone has proved itself and we hope that we will be able to come up with a few more improvements to target even higher number of visitors for summer events next year," civic association SANANIM Josef Šedivý said.
Více informací o Pilsner Festu naleznete na webu www.pilsnerfest.cz.
More info about responsible consumption of alcohol at napivosrozumem.cz.
More info:
Kateřina Krásová, Plzeňský Prazdroj, tel.: +420 724 617 219
Plzeňský Prazdroj in social media:
Twitter twitter.com/Prazdroj1
LinkedIN www.linkedin.com/company/plzensky-prazdroj
Youtube www.youtube.com/user/PlzenskyPrazdroj1
Notes for editors:
With its total sale of nearly 9.9 million of hectoliters during the calendar year of 2012 (including licensed productions abroad) and with its export to more than 50 countries worldwide, Plzeňský Prazdroj Inc. is the preeminent beer producer in the region and the biggest exporter of the Czech beer.
Plzeňský Prazdroj Inc. is the member of SABMiller plc. group. Pilsner Urquell is the international flagship brand of the SABMiller brand portfolio.
SABMiller plc is one of the most significant world beer companies with 70 thousand employees in 75 countries around the world. It offers more than 200 beer brands including the world renowned brand such as Pilsner Urquell, Peroni Nastro Azzurro, Miller Genuine Draft (draught) a Grolsch, as well as important local brands such as Aguila (Columbia), Castle (South Africa), Miller Lite (USA), Snow (China), Victoria Bitter (Australia), and Tyskie (Poland).
Plzeň