Radegast Brewery's Invitation To Gloomy Bitter Night Tours
28.11.2013
Radegast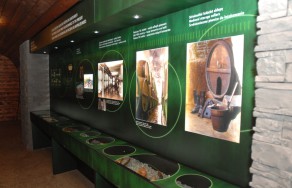 Radegast Brewery is a popular tourist destination. Every year more than 10,000 people come to visit. However, never before has anyone seen the brewery at night. "To commemorate the introduction of the demi bitter semi-dark lager, Radegast Gloomy Bitter, to the market, we have decided to organize three night tours. We will also celebrate the 43rd anniversary of the brewing of the very first batch, which falls on December 3rd," said Martina Sikorová, the director of Radegast Brewery's visitor center.
Visitors will take the tours equipped with head torches that they will be allowed to take home with them afterwards. During the tour, visitors will see all parts of the brewery, including those that are also part of regular day tours. "I am convinced that the night atmosphere of the brewery will make a strong impact on our visitors. There is a limited number of places available and therefore I recommend reserving a place on one of the tours as soon as possible on +420 558 602 566 or online at www.radegast.cz," Martina Sikorová added.
Visitors on the night tours will receive a special pack of Radegast Premium and Radegast Gloomy Bitter beers to take home with them. The semi-dark lager, known for an accentuated bitterness that is typical of all Radegast beers, will be on tap in hundreds of pubs in Moravia and Bohemia from December 1st. It is also available in bottles. A higher proportion of carefully selected hops and a nontraditional combination of malts give it its unique full taste, crispness and amber color.

Notes for editors:
Radegast Beer Brewery, one of the most modern breweries in the Czech Republic, has been producing beer since 1970.
Radegast Brewery has been a member of the biggest Czech brewing company Plzeňský Prazdroj Inc. since 1999. With total sale of nearly 10 million hectoliters during the 2012 calendar year (including licensed production abroad) and with exports to more than 50 countries worldwide, Plzeňský Prazdroj Inc. is the preeminent beer producer in the region and the biggest exporter of Czech beer.
Plzeňský Prazdroj Inc. is a member of SABMiller plc group. Pilsner Urquell is the international flagship brand of the SABMiller brand portfolio.
SABMiller plc is one of the world's biggest brewing companies with beer brewing activities or distribution in more than 60 countries across six continents. The SABMiller portfolio includes important international brands such as Grolsch, Miller Genuine Draft, Peroni Nastro Azzurro, and Pilsner Urquell, as well as premium local brands like Aguila (Columbia), Castle (South Africa), Miller Lite (USA), Snow (China), Victoria Bitter (Australia), and Tyskie (Poland).
Contact:
Kateřina Krásová
Plzeňský Prazdroj
+420 724 617 219
Plzeňský Prazdroj in social media:
Twitter https://twitter.com/Prazdroj1
LinkedIN https://www.linkedin.com/company/plzensky-prazdroj
Youtube http://www.youtube.com/user/PlzenskyPrazdroj1
Nošovice