Pilsner Urquell Celebrated 140 Years Since the First Export to American Pubs
9.12.2013
Pilsner Urquell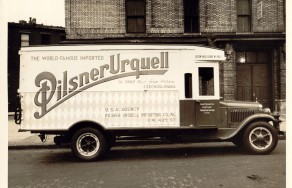 Christmas of 1873 was the first time that Pilsner Urquell was made available to citizens of the USA in barrels. At that time, August Fischer of New York received 5 beer buckets (about 2.83hl) of beer. To celebrate this anniversary, Plzeňský Prazdroj organised a tour of Pilsen brew-masters with unfiltered Pilsner Urquell beer in wooden barrels across the USA. This tour visited tens of pubs from New York to Arizona, and changed American regulars' perception of Pilsner Urquell beer.
"In the USA, they serve the beer without head, so the unfiltered Pilsner opened the eyes of local beer lovers. A glass of the golden beer with the snow-white head made such an uproar in the bar that the first barrel disappeared in matter of minutes, even though Pilsner Urquell taps with the standard filtered beer have been available there for some time", said Václav Berka, senior master-brewer of Plzeňský Prazdroj.
The tour of unfiltered beer started in November in Philadelphia and continued via New York's Manhattan to Ohio and Chicago, which is known for its significant Czech population. The celebration ended in Scottsdale, Arizona. "Here, the local beer lovers stood in a queue and I finished one barrel, which is 342 half litters, within a half-hour. This pub was truly a climax of the celebration of 140 years since the first export of our beer to the USA, and also a very dignified celebration of 171 years since brewing the first batch of Pilsner Urquell beer. I am pleased that our beer is becoming more and more popular on the American continent,"said Václav Berka.
The USA is one of five key export markets for Pilsner Urquell beer. Plzeňský Prazdroj exported nearly one million hl of Pilsen lager to the USA over the past 7 years. The beer is available there in more than 40,000 restaurants, clubs, and stores. Pilsner Urquell from a tap is only available in New York, in nearly 500 restaurants, usually the high-end ones. The true destination for Pilsen beer in New York is a restaurant called Hospoda ("Pub" in Czech) (a simple and well-aimed name given to the place by the Honorary Expert on Pilsen beer and famous movie director Miloš Forman) where Frankie Šťástka, this year's winner of the Pilsner Urquell Master Bartender Competition, works. Pilsen beer has its high season right before Christmas, when consumers tend to buy premium beers. This year's sales were also supported by the introduction of the limited edition retro cans.
A rarity in the north American market is the unique, 25l barrels, kegs, with a diameter of only 28 cm that fit into the cooling space in the bars of American pubs and clubs. Since 2012, Plzeňský Prazdroj has used a new means of transporting bottled beer to USA. The beer must get to the USA from Pilsen in no more than 30 days, and it is transported in cooling containers with a precise temperature (it basically travels constantly on "the seventh step") so American consumers enjoy the beer at its highest quality.
There were some unfortunate times (world wars, Prohibition) when Pilsen beer was not able to get to the American market. Today, the export is supported by a wide distribution network, distributing about 100 thousand hl per year.
More information:
Kateřina Krásová, Plzeňský Prazdroj, tel.: +420 724 617 219

Plzeňský Prazdroj in social media:
Twitter twitter.com/Prazdroj1
LinkedIN www.linkedin.com/company/plzensky-prazdroj
Youtube www.youtube.com/user/PlzenskyPrazdroj1
Notes for editors:
With total sales of nearly 9.9 million of hectolitres during the calendar year of 2012 (including licensed production abroad), and with exports to more than 50 countries worldwide, Plzeňský Prazdroj Inc. is the preeminent beer producer in the region and the biggest exporter of Czech beer.
Plzeňský Prazdroj Inc. is a member of SABMiller plc. group. Pilsner Urquell is the international flagship brand of the SABMiller brand portfolio.
SABMiller plc is one of the most significant world beer companies with 70 thousand employees in 75 countries around the world. It offers more than 200 beer brands including world renowned brand such as Pilsner Urquell, Peroni Nastro Azzurro, Miller Genuine Draft,  Grolsch, as well as important local brands such as Aguila (Columbia), Castle (South Africa), Miller Lite (USA), Snow (China), Victoria Bitter (Australia), and Tyskie (Poland).
Plzeň