From a Brewery Right In To a Beer Academy
20.1.2014
Radegast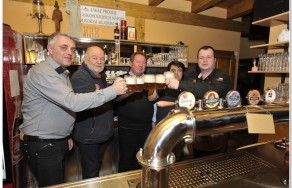 Thousands of people who come to see Radegast brewery every year can now enjoy an interesting novelty. In a pub called "U Bobra" (At Beaver's) in nearby Raškovice, they've opened a Beer Academy led by the vice-master in beer serving Jakub Šrubař. People can learn here how take care of beer, but mainly how to draft it well. The first graduate of the Beer Academy this week was Karel Loprais, winner of the Dakar Rally six times.
The pub "U Bobra" in Raškovice offers excellent food and beer and now a chance to learn. "Together with experts from Radegast, we have opened our Beer Academy. We would like to show our students how to draft beer and what to do to make sure it tastes its best. We believe that people will like our idea and that it will become a popular learning center," says Jakub Šrubař, Czech vice-master in beer drafting, who leads the Academy.
The pub "U Bobra" is only a few miles from the brewery. It is an ideal place for tourists visiting Nošovice to come after a tour of the brewery. "People have a chance to see the place where the beer is brewed and then see how to take care of it and draft it well. We are certain that the Academy graduates will become ambassadors of our Radegast and will see it's correctly cared for and served in pubs they visit," says the director of Radegast Visitors Center, Martina Sikorová.

Notes for editors:
Radegast beer brewery, one of the most modern beer breweries in the Czech Republic has been producing beer since 1970.
Radegast brewery has been part of the biggest Czech beer brewing company Plzeňský Prazdro, Inc. since 1999. With total sales of nearly 10 million hectoliters during 2012 (including licensed productions abroad) and with exports to more than 50 countries worldwide, Plzeňský Prazdroj Inc. is the preeminent beer producer in the region and the biggest exporter of Czech beer.
Plzeňský Prazdroj Inc. is a member of the SABMiller plc. group. Pilsner Urquell is the international flagship brand of the SABMiller brand portfolio.
SABMiller plc is one of the world's top brewers with 75,000 employees in 75 countries all around the world. It offers more than 200 beer brands including world-renowned Pilsner Urquell, Peroni Nastro Azzurro, Miller Genuine Draft, and Grolsch as well as famous local brands such as  Aguila (Colombia), Castle (South Africa), Miller Lite (USA), Snow (China), Victoria Bitter (Australia), and Tyskie (Poland).

Contact:
Kateřina Krásová
Plzeňský Prazdroj
+420 724 617 219
Plzeňský Prazdroj in social media:
Twitter https://twitter.com/Prazdroj1
LinkedIN https://www.linkedin.com/company/plzensky-prazdroj
YouTube http://www.youtube.com/user/PlzenskyPrazdroj1
Nošovice