Pilsner Urquell Is Ready For the Olympic Games
29.1.2014
Pilsner Urquell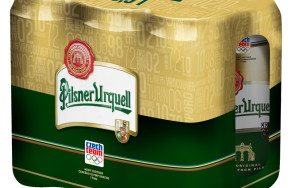 Pilsner Urquell, a longtime partner of the Czech Olympic Team, prepared a limited edition with Olympic packaging, multipacks with collector's coasters, and a contest in nearly one thousand restaurants and pubs. Sport fans who will not be able to enjoy the games and the "Pilsen"(beer) right in Sochi, where Czech successful Olympic athletes Kateřina Neumannová, Jaroslav Špaček, and Martin Doktor sent 120 barrels from the Pilsen brewery, can enjoy the Games atmosphere in the original tent in Praha – Letna. There, the finalists of the Master Bartender contest – the champions of all bartenders – will serve the Pilsner Urquell in perfect condition.
The fans of our Olympic athletes and the supporters of the golden lager from Pilsen who are not able to cheer right in the heart or the Games will have their fun too. Even today, consumers may purchase Pilsner Urquell beer in a limited edition with the design reflecting our golden Olympic moments. Special packaging imprinted with the years of Winter Olympics in which our athletes won gold medals adorns 0.5l bottles and cans. Carton multipacks with one of the three collectors' coasters with motifs of Czech golden successes are waiting for their fans in selected stores.*
During the Olympics in Sochi, fans will have a chance to get one of the above mentioned coasters in exchange for every 10 consumed beers in 350 selected restaurants. In another 500 pubs, they will be able to get a free beer or an Olympic half-litre for every five Pilsen Urquell beers consumed. In cooperation with the Tesco store chain and Alpine Comp., PU prepared a consumer contest with the main price being a set of Olympic wear Alpine Pro accompanied by special half-litres designed to complement the collection.
With its special Olympic edition, Pilsner Urquell want to show its support not only to all athletes but to express its thanks to all its fans as well.
"We believe that our special collection and our events will make the following of this year's Olympics in Sochi more pleasurable to fans and that it will bring a bit of the Olympic spirit to their favorite pubs, restaurants and homes. We wish to all our athletes the best success and we are convinced we will celebrate many of their victories with a half-litre of our chilled liquid gold in Sochi or in the Letna tent", says Lukáš Novotný, brand manager of Pilsner Urquell.
Available in Albert (hypermarkets), Tesco (hypermarkets and shopping centers), Interspar (hypermarkets), Makro, Billa, COOP Terno, and Globus.

More information:
Kateřina Krásová, Plzeňský Prazdroj, tel.: +420 724 617 219

Plzeňský Prazdroj in social media:

Twitter             twitter.com/Prazdroj1
LinkedIN         www.linkedin.com/company/plzensky-prazdroj
Youtube          www.youtube.com/user/PlzenskyPrazdroj1
Notes for editors:
With its total sale of nearly 9.9 million of hectolitres during the calendar year of 2012 (including licensed productions abroad) and with its export to more than 50 countries worldwide, Plzeňský Prazdroj Inc. is the preeminent beer producer in the region and the biggest exporter of the Czech beer.
Plzeňský Prazdroj Inc. is the member of SABMiller plc. group. Pilsner Urquell is the international flagship brand of the SABMiller brand portfolio.
SABMiller plc is one of the world's most significant beer companies, with 70,000 employees in 75 countries around the world. It offers more than 200 beer brands including the world renowned brands Pilsner Urquell, Peroni Nastro Azzurro, Miller Genuine Draft a Grolsch, as well as important local brands such as Aguila (Columbia), Castle (South Africa), Miller Lite (USA), Snow (China), Victoria Bitter (Australia), and Tyskie (Poland).
Plzeň