Apropos – the First Brand Kozlovna in the Old Town
29.1.2014
Velkopopovický kozel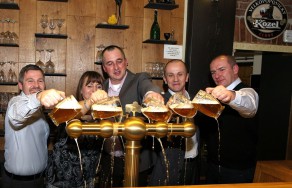 Kozel 11° from new beer tanksNew space in unused cellars and beer tanks withVelkopopovický Kozel 11°, that's how Kozlovna Apropos in Prague's Old Town started the New Year. The 10th Kozlovna is a part of the chain of pubs. It's the second one in Prague so far.
Restaurant Apropos welcomed its first guests in 2002 when current owners took over. They had just 65 seating places at the corner of Křížovnicka and Platnéřska streets at the time. The owners, Petra and Tomáš Dudek, were contemplating a change. They wanted to change the atmosphere of the pub and expand the capacity, and find a new direction. In 2012, they encountered the concept Kozlovna of Plzeňský Prazdroj.
"We were very happy when the experts from Plzeňský Prazdroj convinced us that we are going to be the only ones serving the Velkopopovický Kozel in the Old Town. The closest and the only Kozlovna in Prague till now is on the other bank of the Vltava river (Moldau) in Smíchov," says Petra Dudková.
Originality on Two Floors
Kozlovna Apropos underwent two phases of reconstruction. The first took place last February included the ground floor. The interior changed in one month. At the same time, the contractor took on the cellars. During next few months they built attractive seating quarters and spaces for the beer tanks there. The cellar is popular not only with every-day visitors but also with companies. It is an ideal space for corporate events, company meetings and presentations, and it is also available for family and private events. Total capacity of the pub was expanded to 200 seating places on two floors.
"Kozlovna pubs express the philosophy of Velkopopovický Kozel brand with their concept and interior design. The idea behind them is to create a pleasant traditional pub atmosphere while preserving today's demands on facilities and services with focus on quality cuisine. The equipment in Kozlovna pubs is handmade and solid, using natural materials and aspects connected with Kozel,"describes Karel Kraus, marketing brand manager of Velkopopovický Kozel. "The concept of Kozlovna pubs came to life to enhance the experience from a pub visit and enjoyment of Velkopopovický Kozel, the honest Czech beer that is the best reward for every day's honest work."
Two times Czech Beer of the Year, Velkopopovický Kozel 11° is served in Apropos from four tanks. They have Velkopopovický Kozel Dark from a barrel, Pilsner Urquell, and unfiltered Velkopopovický Kozel beers on tap. All beers are served in classic beer glassware as well as in increasingly more popular double-steins (1 litre). All varieties of the nonalcoholic beer Birell are also available.
Freshness and Honesty Daily on a Plate
In Kozlovna Apropos, they prepare quality Czech food with a focus on fresh ingredients as well as steaks prepared on a lava grill right before the customers' eyes. They do not use stock at all in the kitchen. All dishes are prepared with love and professionalism and, despite its location in the centre of Prague, for reasonable prices. Chef Tomáš Miňovský adds: "Roasted pig knees and our roasted duck are the most popular. Our speciality is the Big Farmer's Plate Apropos." The Apropos menu also contains a nice selection of fresh fish. Lunch discounted specials are available as well.
Kozlovna Apropos at Křížovnicka 4 is open Sunday to Thursday from 11:00 a.m. to midnight and Friday to Saturday 11:00 a.m. to 1:00 a.m.

Note for editors:
The first batch of beer was brewed in Velké Popovice brewery on December 15, 1874, and just one year later, 18 000 hl of beer were brewed and sold. Only few years later, the brewery became the third biggest brewery in the country. They were famous especially for their dark, heavy beer.
The visitors of the brewery may look forward to visitors' tour that introduces the history and the present of the brewery and its surroundings in an entertaining and interesting way. The tour contains  tasting in lager cellars and live brewery mascot – billy-goat Olda.
Brewer's "Billy-goat's Gift Shop" with souvenirs and gifts offers a wide range of interesting gifts with beer motifs.
There is a restaurant "Velkopopovická Kozlovna" right in the brewery area. The restaurant offers Czech cuisine and a wide assortment of tap beer – especially exceptional 11 degree Velkopopovický Kozel Medium tapped directly from the brewery tanks.
Attractiveness of the brewer is enhanced by a number of cultural events that take place there every year. The most important is The Day of Kozel taking place every June.
With its total sale of 9,9 millions of hectoliters during the calendar year of 2012 (including licensed productions abroad) and with its export to more than 60 countries worldwide, Plzeňský Prazdroj Inc. is the prominent beer producer in the region and the biggest exporter of the Czech beer.
Plzeňský Prazdroj Inc. is the member of SABMiller plc. group. Pilsner Urquell is the international flagship brand of the SABMiller brand portfolio.
SABMiller is one of the world's biggest beer brewing companies with beer brewing activities or distribution in more than 60 countries across six continents. SABMiller's brand group include 200 beer brands such as world renown Pilsner Urquell, Miller Genuine Draft (draught), Grolsch, Peroni Nastro Azzurro, Miller Genuine Draft (draught) and Grolsch, as well as local brands such as Aguila (Columbia), Castle (South Africa), Miller Lite (USA), Snow (China), Victoria Bitter (Australia), and Tyskie (Poland).

Press contact of Plzeňský Prazdroj Comp. Kateřina Krásová is available to media at:
Mobile: +420 724 617 219
Email: 
Praha